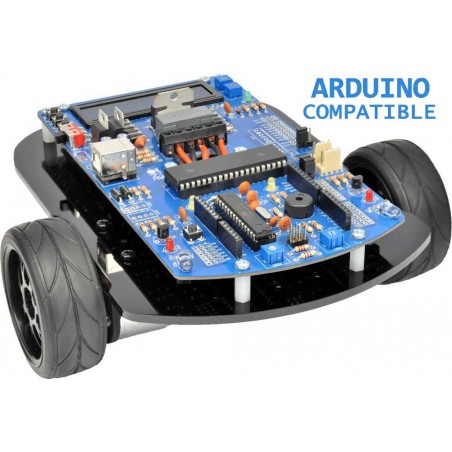  
Bot n Roll ONE A Robotics Kit
The Bot'n Roll ONE A is the new educational robotic kit botnroll.com®compatible with Arduino™.
If you have any questions on this product please feel free to contact us.
*Disclaimer: The images are merely illustrative.
The Bot'n Roll ONE A Arduíno compatible is an Open Source didatic product, that is intended for all those who wish to start in the world of mobile robots despite not having much knowledge about electronics or computers. The assembly of this robot allows the first steps with some of the most common electronic components. The brief introduction to the basic components and explanation of some concepts along the assembly instructions allow a very enriching introductory approach that complements the electronic components assembling.
Those who wish to get started in robotics find in Bot'n Roll ONE A the ideal tool that allows them to assemble a robot while not having the basic knowledge.
Teachers will find the Bot'n Roll ONE A a working tool able to assist them in imparting knowledge to their students. From electronic to programming, this robot allows the study of a wide range of concepts in a very practical perspective.
The most experienced will find this robotic kit an interesting challenge. The Bot'n Roll ONE A has two microcontrollers, one ATmega328 running at 16MHz, programmable in C language with Arduino IDE (that is at all similar to an Arduino UNO) and one PIC18F45K22 running at 80MHz programmable in C with MPLABX Microchip (supplied with firmware developed by botnroll.com). A library for the Arduino IDE specifically developed by botnroll.com allows interaction between the two microcontrollers. This kit comes with a 2 two lines alphanumeric LCD display with 16 characters per line.
This robot is ready to be coupled with a wide range of Arduino compatible shields such as wireless communications, GPS, GPRS, and many other sensors to perform various tasks, which makes it suitable to participate in the major national and international robotic competitions. These competitions are always very motivating for young people to learn more, and to see new solutions created by other teams.
MAIN CHARACTERISTICS:
Microcontrollers: 1 ATmega328 + 1 PIC18F45K22
Supply Voltage: 7V to 15V DC
Digital I/O's: 14 (6 of which allow PWM)
Analog Inputs: 6 (ATmega328) + 8 (PIC18F45K22)
Dedicated Outputs for servo control: 2 (PIC18F45K22)
Encoders Inputs: 2 (PIC18F45K22)
I2C Connectors: 4 (ATmega328)
LCD Display: 2x16 Alfanumeric with contrast and light control (PIC18F45K22)
Push Buttons: 3 (PIC18F45K22)
Obstacle Sensors: 2 (PIC18F45K22)
Buzzer: 1 (ATmega328)
Debugging LED´s: 2
Motors: 2 (PIC18F45K22)
Nominal Voltage: 12V DC
Nominal Current: 0.58A
Rotation without load: 250rpm
Nominal Binary: 1.16Kg.cm
Maximum Instantaneousls Binary: 1.74Kg.cm
Dimentions: 205mm x 192mm x 85mm
Weight: 1300g (base kit without battery)
Battery: Ni-MH AA 12V 800mAh
Other caracteristics:
Reset Button;
Circuit for measuring the battery voltage;
Allows to include a voltage regulator dedicated to servo feeding;
Microcontroladores communicate through SPI bus;
Protection against short-circuit with a 4A slow fuse.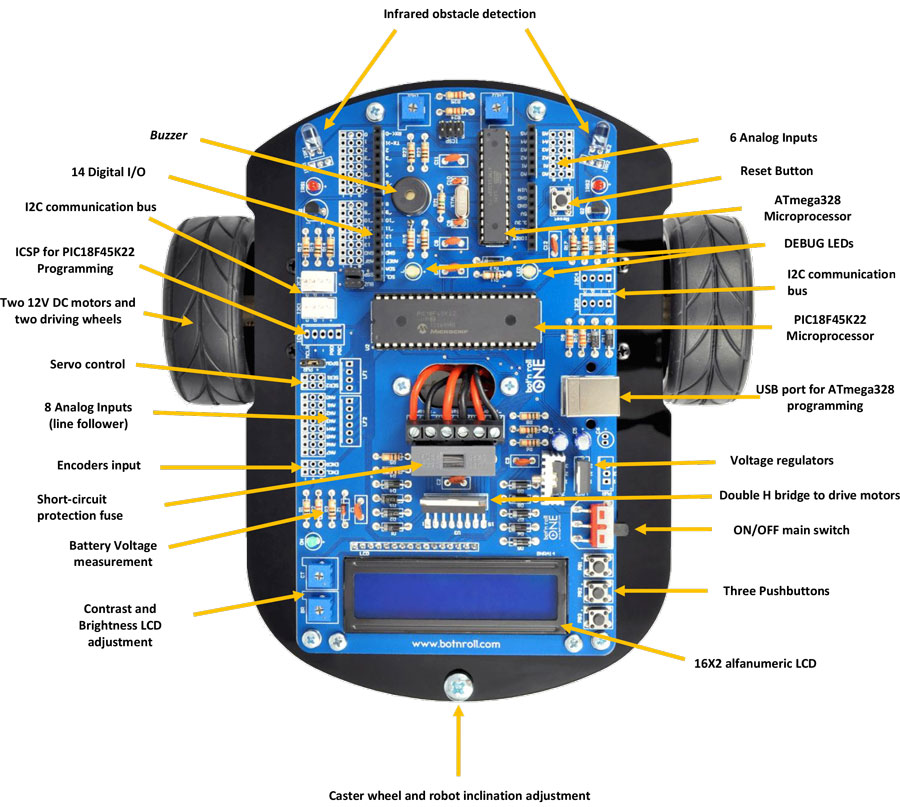 You might also like