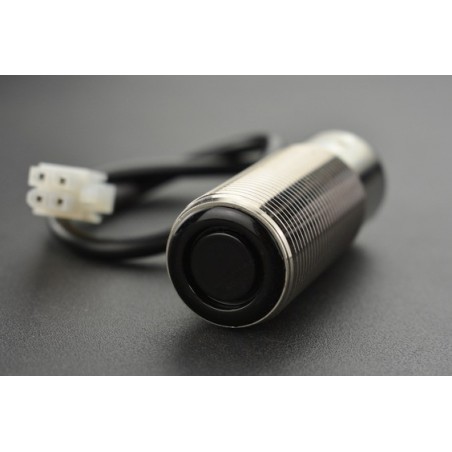  
URM08-RS485 Ultrasonic Ranging Sensor (35~550cm)
With an internal temperature compensation and accurate distance detection, URM08-RS485 is a combination of temperature measurement device and distance inspection tool. The inner is fully enclosed and the external is made of metal crust, which has brought advantages such as waterproof, dustproof and corrosion resistance…
If you have any questions on this product please feel free to contact us.
*Disclaimer: The images are merely illustrative.
Introduction
With an internal temperature compensation and accurate distance detection, URM08-RS485 is a combination of temperature measurement device and distance inspection tool. The inner is fully enclosed and the external is made of metal crust, which has brought advantages such as waterproof, dustproof and corrosion resistance… It is applicable to detections of liquid level, levels, and barrier applications. As a high standard
sensor
, it guarantees smaller blind zone and larger inspection range. On the premise of stable output data, it shows better measurement capabilities in the market of temperature sensors and distance detection
sensors.
Specification
Operating Voltage: DC 6.0 ~ 12.0V
Operating Current: 250mA
Effective Range: 35 ~ 550 cm
Distance Resolution: 1cm
Temperature Resolution: 0.1°C
Temperature Error: ± 1 ℃
Measurement Period: 70ms
Operating Temperature Range: -10 ~ 70 ℃
Distance Error: ±1%
Operating Humidity Range: RH<75%
Acoustic Frequency: 38 ~ 42KHz
Direction Angle: 60 °
Protection Degree: IP65
Communication Interface: RS485
Documents
Shipping List
URM08-RS485 U ltrasonic Ranging Sensor x1
Screw Nuts x2
Metal Pads x2
Adaptor Wire x1
You might also like