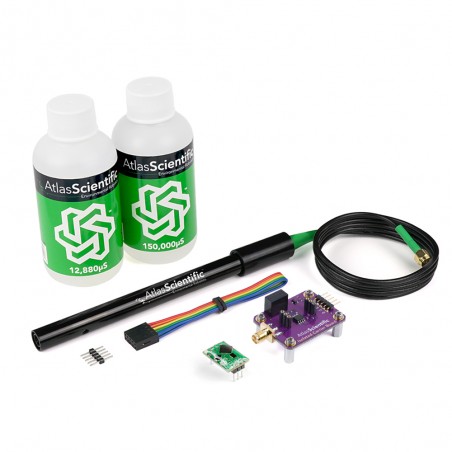  
Electrical Conductivity Kit
When was the last time you measured something in microsiemens? 
If you are new to electrochemical sensing, knowing what components you need can get confusing. Let us help you.
The Atlas Scientific K1 EZO-Conductivity Kit is perfect measuring water with a conductivity range from 10µs to 100,000µs. That means this kit is perfect for environmental monitoring, hydroponics, and both freshwater and saltwater aquariums.  
Kit Includes:
1x EZO™ Conductivity Circuit
1x Conductivity Probe: 5 µS/cm to 200,000 µS/cm
1x Electrically Isolated EZO™ Carrier Board
2x 125ml (4oz) calibration solutions
K 1.0 – This set includes 1 (12,880µS) and 1 (80,000µS
Features:
Electrical Conductivity Circuit
Specific gravity of sea water
Accuracy +/- 2%
Full E.C. range from 0.07 μs/cm to 500,000+ μs/cm
Temperature dependent or temperature
independent readings
Flexible calibration protocol supports single point
or dual point calibration
Calibrate to any E.C. value
Calibration required only once per year
Data format is ASCII
Two data protocols
UART asynchronous serial connectivity
(RX/TX voltage swing 0-VCC)
I2C (default I2C address 0x64)
Operating voltage: 3.3V to 5V
Works with any off-the-shelf two conductor conductivity probe
Works with any K value from K 0.1 to K 10
Sleep mode power consumption
Conductivity K 1.0 Probe
Body material: Epoxy
Max Temperature: 0-70°C
Max PSI: 1379 kPa (200PSI)
Cable length: 1 Meter
Carrier Board dimensions: 56.2mm x 32mm (2.2″ x 1.2″)
Typical Applications
Standard Lab use
Field use
Aquarium
Hydroponics
Food Safe
Fish keeping
Mixed aqueous/organic
Samples containing Heavy metals
Soil Samples
Strong reducing agents
Documents:
You might also like