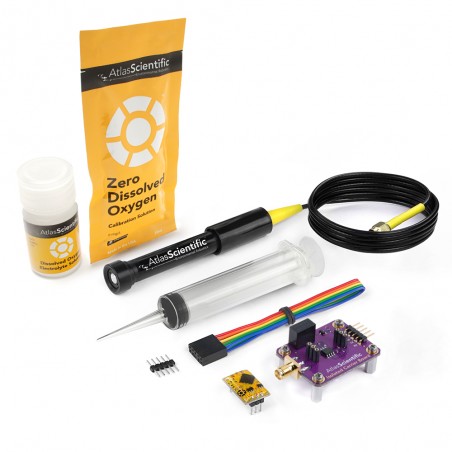  
Dissolved Oxygen Kit
There are basically two easy ways to measure oxygen dissolved in water:
You can guess and then insist that you measured it, which has the obvious disadvantage of being wildly inaccurate; or you can just use the Atlas Scientific Dissolved Oxygen Kit.
If you are new to electrochemical sensing, knowing what components you need can get confusing. Let us help you.
The Atlas Scientific EZO-Dissolved Oxygen Kit gives you everything you need to take high accuracy, interference-free readings. Once you become familiar with electrochemical sensing, it will be easy for you to streamline your design and buy only the components that work for you.
Kit Includes:
1x EZO™ Dissolved Oxygen Circuit
1x Lab Grade Dissolved Oxygen Probe
1x 30ml bottle of Electrolyte Solution
3x 20ml Zero Dissolved Oxygen calibration solution pouches (used to confirm that the D.O. probe is working properly)
1x Electrically Isolated EZO™ Carrier Board
1x Syringe
Carrier Board dimensions
56.2mm x 32mm (2.2″ x 1.2″)
Weight: 25 grams
Features:
Range: 0-35 mg/l
Body Material: Epoxy and Noryl (highly resistant to corrosion)
Max Temperature: 50 °C
Calibration Single point in air
Cable length: 1 Meter
Dimensions: 16.5 x 116 mm (0.65" x 4.57")
Response time: 0.06 mg/l per second
Documents:
You might also like