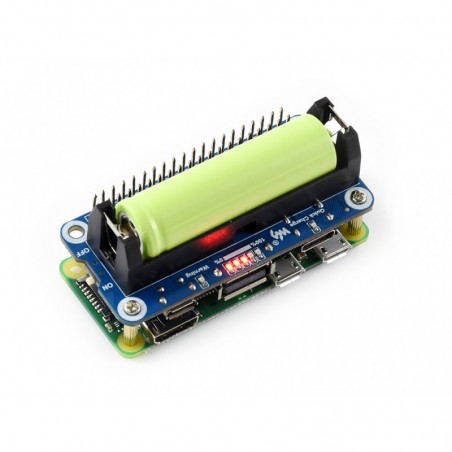  
Li-ion Battery HAT for Raspberry Pi, 5V Output, Quick Charge
The Li-ion Battery HAT integrates SW6106 power bank management chip, allows providing 5V regulated power supply to your Pi from a 14500 battery, makes the Pi becomes a portable device
If you have any questions on this product please feel free to contact us.
*Disclaimer: The images are merely illustrative.
Description
Overview
The Li-ion Battery HAT integrates SW6106 power bank management chip, allows providing 5V regulated power supply to your Pi from a 14500 battery, makes the Pi becomes a portable device. It will charge the battery as well, supports bi-directional quick charge. This module can be used as a universal mini power bank, also works with other 5V devices.
Features
Onboard SW6106 chip, supports bi-directional quick charge, supports multi quick charge protocols like PD/QC/FCP/PE/SFCP
Lithium battery protection circuitry, provides reverse protection, over charge/discharge protection, over current protection, and short circuit protection
Onboard indicators: quick charge, warning, and power capacity
Specifications
Output voltage: 5V
Applicable battery: 3.7V 14500 lithium battery (4.2V when full charged)
Dimension: 65mm × 30mm
Mounting hole size: 3.0mm
What's on Board
Raspberry Pi GPIO connector: for connecting Raspberry Pi
SW6106 power management chip
USB Type-C connector: battery charge/power output
USB Type-A connector:power output
Micro USB connector:battery charge
Raspberry Pi power switch
Battery warning indicator: on when the battery is reverse
Battery power capacity indicator: 5x LEDs to indicate the power capacity and charging status
Quick charge indicator: on when quick charging
14500 battery holder
Dimension
Development Resources
Wiki : www.waveshare.com/wiki/Li-ion_Battery_HAT
Package Content
Weight: 0.021 kg
You might also like