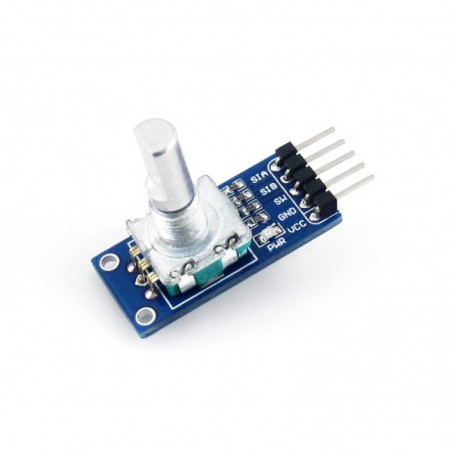  
Rotation Sensor
Detects clockwise/anti-clockwise rotations: degrees and laps
If you have any questions on this product please feel free to contact us.
*Disclaimer: The images are merely illustrative.
Overview
Detects clockwise/anti-clockwise rotations: degrees and laps
Specifications
Pulses per lap: 15
Power: 3.0V ~ 5.3V
Dimension: 32.1mm * 15.4mm
Mounting holes size: 2.0mm
Applications
Positioning in Industrial Controls
How to Use
In the case of working with a MCU:
VCC ↔ 3.0V ~ 5.3V
GND ↔ power supply ground
SW ↔ MCU.IO (encoder button status)
SIB ↔ MCU.IO (output status)
SIA ↔ MCU.IO (output status)
Examples
Connect the SIA, SIB, SW pins to the CH0, CH1, CH2 of logic analyser respectively, then power the module.
When clockwise rotating the encoder, the output waveform looks like:

When anti-clockwise rotating the encoder, the output waveform looks like:

When pressing the encoder button, the output waveform looks like:

Photos
---
Downloads
Development resources: demo codes, schematic, datasheets, etc.
Wiki: www.waveshare.com/wiki/Rotation_Sensor
Package Content
Weight: 0.011 kg
Rotation Sensor x1
5-pin custom connector jumper wire x1
You might also like