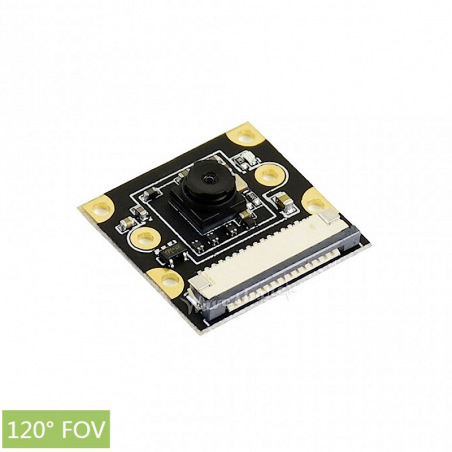  
IMX219-120 Camera, 120° FOV, Applicable for Jetson Nano
IMX219-120 Camera, Applicable For Jetson Nano, 8 Megapixels, 120° FOV
If you want to know more about this product, please check the Wiki Page.
NOTE: This product only includes the camera and a 16cm F-F cable. Jetson Nano board not included.
If you have any questions on this product please feel free to contact us.
*Disclaimer: The images are merely illustrative.
Features
Supports CM3/3+/4, Jetson Nano, Jetson Xavier NX

8 Megapixels

Sensor: IMX219

Resolution: 3280 × 2464

Lens specifications:

CMOS size: 1/4inch

Aperture (F): 2.0

Focal Length: 1.79mm

Angle of View (diagonal): 120 degree

Distortion: <13.6%

Lens dimensions: 6.5mm × 6.5mm

4 screw holes

Used for attachment

Provides 3.3V power output

Dimension: 25mm × 24mm
Applications
Combined with the Jetson Nano AI computer, this camera suits for AI projects such as:
Face recognition

Road mark detection

License plate recognition
Development Resources
Wiki: www.waveshare.com/wiki/IMX219-120_Camera
Selection Guide
PRODUCT

PIXELS

SENSOR

INFRARED

CAMERA

ANGLE OF VIEW (DIAGONAL) (DEGREE)

APERTURE (F)

FOCAL LENGTH (MM)

PCBA

SUIT FOR

8 Mega

IMX219

×

1

62.2

2.0

3.04

√

Raspberry Pi, CM3/3+/4,
Jetson Nano, Jetson Xavier NX

×

1

160

2.35

3.15

×

√

1

62.2

2.0

3.04

√

Raspberry Pi, CM3/3+/4,
Jetson Nano

×

1

79.3

2.0

2.85

√

CM3/3+/4,
Jetson Nano, Jetson Xavier NX

√

1

79.3

2.0

2.85

√

×

1

120

2.0

1.79

√

×

1

160

2.35

3.15

√

√

1

160

2.35

3.15

√

√

1

162

2.7

1.75

√

×

1

170

2.4

2.2

√

×

1

200

2.0

0.87

√

×

2

83

2.4

2.6

√

CM3/3+/4, Jetson Nano (B01),
Jetson Xavier NX
The IR cameras will take curious reddish pictures by daylight for lacking of IR filter in the CCD, yet that is the reason why the camera can see in the dark with IR LEDs

Jetson Nano —— supports both Jetson Nano Developer Kit (B01) and Jetson Nano 2GB Devekoper Kit
Jetson Nano (B01) —— supports Jetson Nano Developer Kit (B01) only
Jetson Xavier NX —— supports Jetson Xavier NX Developer Kit
Package Content
Weight: 0.012 kg
The included FFC is 16cm, if you need a longer cable, please consider: RPi Camera Cable 60cm
IMX219-120 Camera x1

15-pin FFC (opposite sides contact) x1
You might also like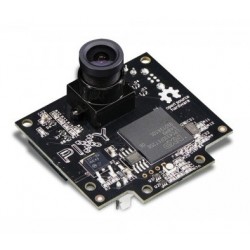 Regular price
€80.49
-10%
Price
€72.44