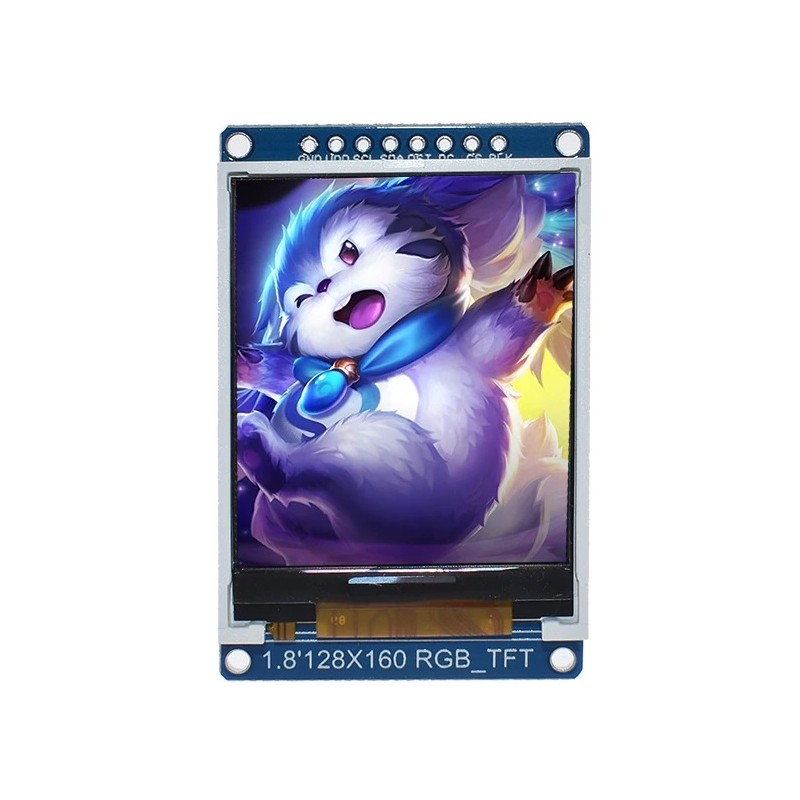  
128x160, 1.8inch LCD RGB 65K TFT display Module ST7735
This is a general LCD display Module, 1.8inch diagonal, 128x160 pixels, with embedded controller ST7735, communicating via SPI interface.
If you have any questions on this product please feel free to contact us.
*Disclaimer: The images are merely illustrative.
TFT - LCD's brief introduction:
TFT-LCD liquid crystal display (TFT) is thin film transistor liquid crystal display (TFT). TFT liquid crystal provides a semiconductor switch for each pixel, and each pixel can be directly controlled by point pulse, so each node is relatively independent and can be continuously controlled, which not only improves the response speed of the display, but also can be accurately controlled. Display color levels, TFT LCD color more real, good brightness, high contrast, strong sense of hierarchy and bright colors.
Product parameters:
1. LCD size: 1.8"
2. Image size: 128x160pixel (1.8 inches)
(you can adjust the display direction, both horizontal screen and vertical screen)
3. LCD color: 65K full color
4. Hardware interface: SPI interface
5. Driver IC: ST7735
6. Working temperature: - 20 ° C to 70 ° C
8. Working power supply: 3.3v
9. Interface: 8Pin
10. Display area: 28x35mm
11. Size: 35x56 mm (1.8)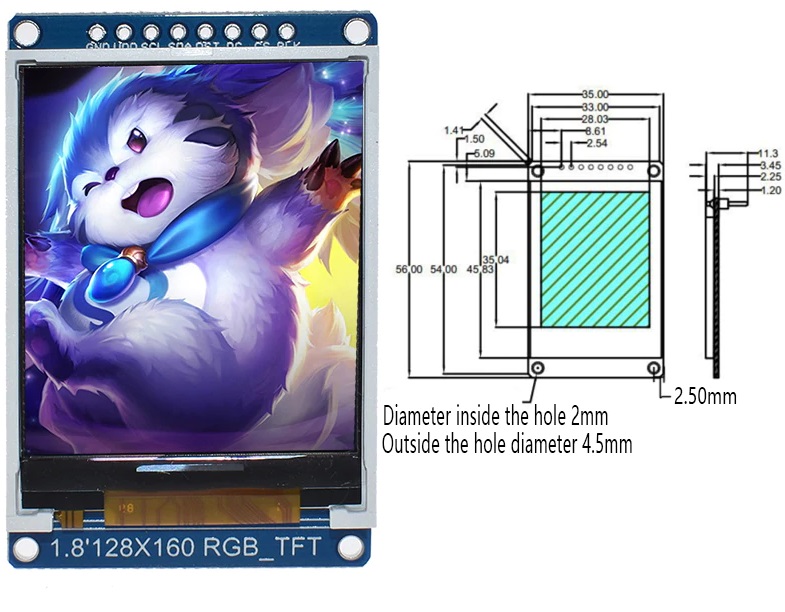 Interface definition:
1. GND: power supply
2.VCC: 3.3V-5.0V (DC)
3.SCL: SPI clock line
4.SDA: SPI data line
5.RES: restart the interface
6.DC: SPI data/command selection
7.CS: chip selection interface
8.BLK: backlight control, default float, low level off
You might also like