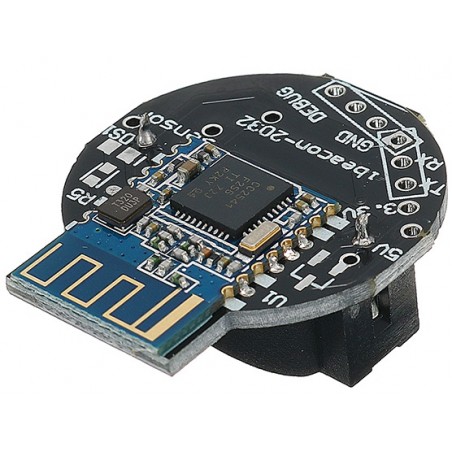  
Bluetooth 4.0 iBeacon BLE Module - Support Near-field Positioning Sensor Wireless Acquisition - CR2032
With this ibeacon you will be able to develop projects to locate objects in indoor environments.
Just insert a CR2032 battery and it's ready to go (see demo video in the description).
As it is compatible with the Bluetooth module HM10 we advise you to visit the following link for more information:
If you have any questions on this product please feel free to contact us.
*Disclaimer: The images are merely illustrative.
Specifications:
iBeacon  Module Bluetooth 4.0 BLE Support Near-field Positioning Sensor Wireless Acquisition
Compatible with Apple iOS 7.0 or Android 4.3+, Bluetooth 4.0+
BT version: Bluetooth Specification V4.0 BLE
Send and receive no bytes limit.
Working frequency: 2.4GHz ISM band
Modulation method: GFSK(Gaussian Frequency Shift Keying)
RF power: -23dbm, -6dbm, 0dbm, 6dbm, can modify through AT
Command AT+POWE.
Speed: Asynchronous: 6K Bytes
Synchronous: 6K Bytes
Security: Authentication and encryption
Service: Central & Peripheral UUID FFE0,FFE1
Power: +3.3VDC 50mA
Long range: Open space have 100 Meters with iphone4s
Power: In sleep mode 400uA~1.5mA, Active mode 8.5mA.
Working temperature: –5 to +65 Centigrade
Size: 24.8mm x 24.8mm,  thickness 7.5mm
Battery type: CR2032 (NOTE: the battery not included)
You can customize your own iBeacon configuration including UUID etc
Support firmware upgrade
Support payment interface
Support broadcast read the battery level, temperature, humidity acquisition, without connecting module
Lightblue for Apple: you can download it in your apple store
Tested with iOS 7.0
Based on TI's CC2541. The range is 30M (HM10 Compatible)
Support broadcast read the battery level, temperature, humidity acquisition, without connecting module
Video Demonstration:
Documents:
http://www.diymalls.com/files/FZ1095.zip
You might also like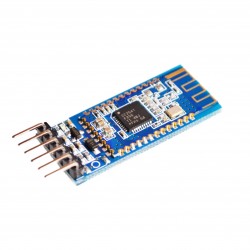 Regular price
€7.28
-€2.40
Price
€4.88