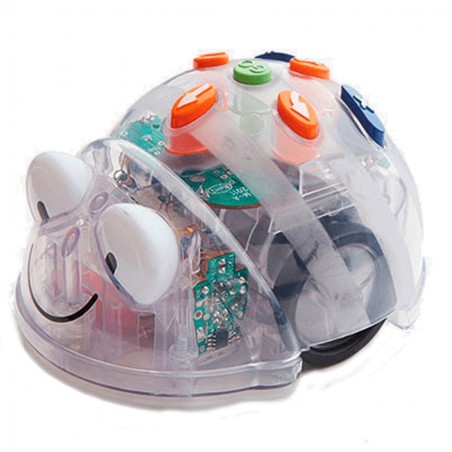  
Blue-Bot: Programmable Robot with Bluetooth
Blue-Bot has a clear shell so children can see the components inside. It is also rechargeable so you don't need to worry about replacing costly batteries. 6 pack includes a FREE docking station. It as bluetoth wich means you can wirelessly control it with your tablet or PC.
If you have any questions on this product please feel free to contact us.
*Disclaimer: The images are merely illustrative.
These are some of the excited reactions of some children to learn Blue-Bot ... it is that this robot awakens the curiosity of everyone!
Because we like it? 
It retains all the good thing about  Bee-Bot and also allows remote programming it broaden the experience: it's great!
Why is it unique? 
Blue-Bot, like her sister Bee-Bot is so intuitive that needs no more than 2 minutes to win who knows first. But what makes it truly unique is the ability to connect with a mobile device in order to control it from the app.
What's in the kit?
Blue-Bot 1x rechargeable. 
1x USB cable AB. 
1x User Guide (in English). 
How do I start?
As Bee-Bot, Blue-Bot operates autonomously when we light. We will consider only three aspects:
Each time you press a button, Blue-Bot eyes blink and hear a sound confirming instruction.
Blue-Bot always forwards or backwards 15 cm and 90 rotates on itself. The sequence is done step by step, marking each with light and sound action, encouraging us to join her and have her. 
Blue-Bot can perform up to 40 moves. The X button clears the memory to start a new sequence; otherwise repeat the old sequence and then the new instructions. 
What brings back about Bee-Bot?
Blue-Bot now be controlled from a computer or tablet. To do this, you need the Blue-Bot app, available for 
iPad
 and tablets 
Android
, or software for 
Windows
 or 
Mac
 and connect via Bluetooth EDR.  Note: check the links that your device is compatible.
Thus, even we can make Blue-Bot perform turns 45 and  repeat a script . In addition, the app lets you set the pitch, associate a sound with each share and tests us with challenges and challenges: Will you be able to find the solution?
Bee-Bot doubt between and Blue-Bot: 
Why we bet?
With
Bee-Bot
interaction occurs only with the robot, something great if we intend to work with young children. Instead, since Blue-Bot can connect to a tablet experience digital work may be of interest to students from six or seven years wanting to perform more complex programming sequences.
In addition, the manufacturer has recently launched
Tactile Reader for Blue-Bot
, a reader is the ideal complement to Blue-Bot so intuitive it is to create programming sequences with this resource. In this regard, soon we will have new apps and add- ons for Blue-Bot.
Still, as educational resources are both can be worked in ages we want: sure will be a great experience!
Personalizing your Bee-Bot: 
With the shells available in the 
starter kit
or 
pack of 30
you can configure Blue-Bot to your liking, whether with an original decoration or disguising of another animal. Make your Blue-Bot is unique! 
Likewise, there are many other accessories such as floor mats, sequencing cards, carrying bag ... the find 
accessories page
.
You might also like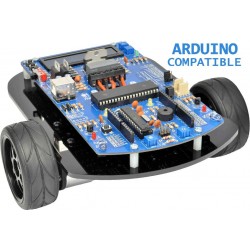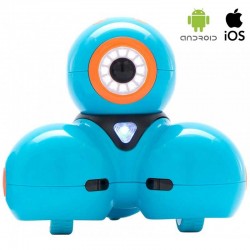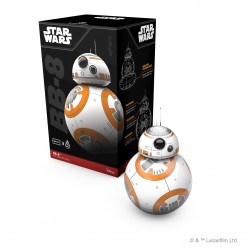 Regular price
€138.13
-€49.95
Price
€88.18
DISCONTINUED
On sale!
-€49.95