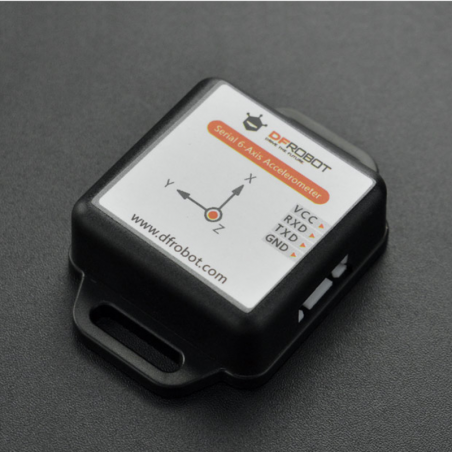  
Serial 6-Axis Accelerometer for Arduino
Powerful 6-axis sensor combines accelerometer and gyroscope. Allows to determine the position of an object in space, measuring acceleration and angular velocity.
If you want to know more about this product, please check the Wiki Page
If you have any questions on this product please feel free to contact us.
*Disclaimer: The images are merely illustrative.
Introduction
This module integrates high-precision gyroscopes, accelerometer, microprocessor of high-performance and advanced dynamics solves and Kalman filter algorithms that aim to quickly solve the current real-time movement of the module attitude. The use of advanced digital filtering technology can effectively reduce measurement noise and improve accuracy.
The module comes with built-in gesture solver that can get accurate attitude in dynamic environment combining with dynamic Kalman filter algorithm. Its static measurement accuracy is up to 0.05 degree(dynamic 0.1) with high stability, which could bring better performance even than some professional Inclinometers!
There is a voltage stabilizer circuit inside the module. The product should be operated at 3.3~5V and its pin level is compatible with 3.3/5V embedded systems. It employs TTL interface for connection. In addition, the module supports adjustable 2400bps~921600bps baud rate and 0.1Hz~200Hz data output.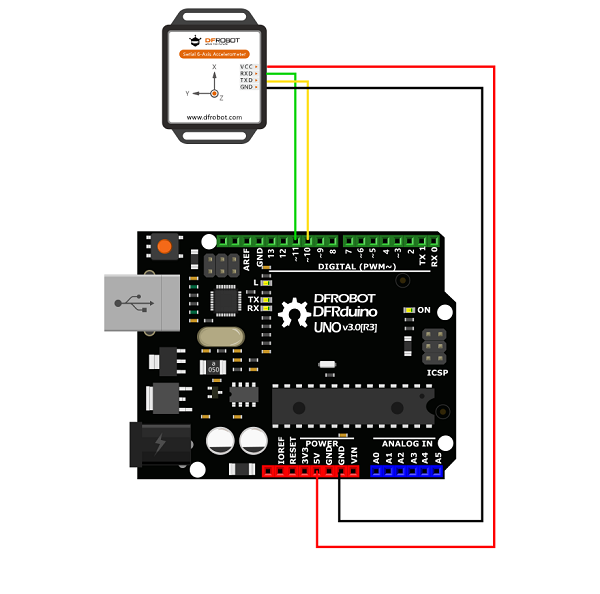 Connection
Specification
Voltage: 3.3V~5V
Current: <40mA
Size: 51.3*36*10mm
Measuring Dimension: acceleration: 3D; angular velocity: 3D; attitude angle: 3D
Range: acceleration: ±2/4/8/16g(optional); angular velocity: ±250/500/1000/2000°/s (Optional); attitude angle: ±180°   
Documents
Shipping List
Serial 6-Axis Accelerometer x1
Wire x1
You might also like