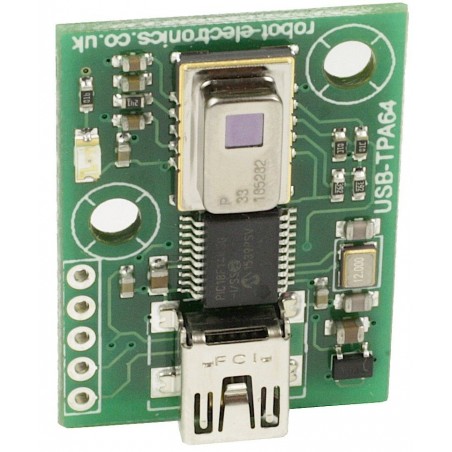  
Thermal sensor 8x8 AMG8833 USB-TPA64
If you have any questions on this product please feel free to contact us.
*Disclaimer: The images are merely illustrative.
DETAILS
Utilising the fantastic AMG8833 thermopile array from Panasonic, the USB-TPA64 offers a complete temperature imaging solution.
Video above is taken from our C# example. The top image is raw data painted to the screen, the bottom are after bilinear and bicubic interpolation. The sensor even shows a heatspot for the camera in the top right!
Temperature detection of two-dimensional area: 8 × 8 (64 pixels)
Temperature range of 0°c to +80°c
Temperature accuracy of +/- 2.5°c
Human detection at up to 7m
Viewing angle 60°, optical axis gap 5.6°
Weight is only 4g
Size 24mm x 32mm
Other info: