Back

Menu

Arduino + Raspberry + Micro:bit

Comunication + IOT + Smart Home

Power Sources and Renewable Energy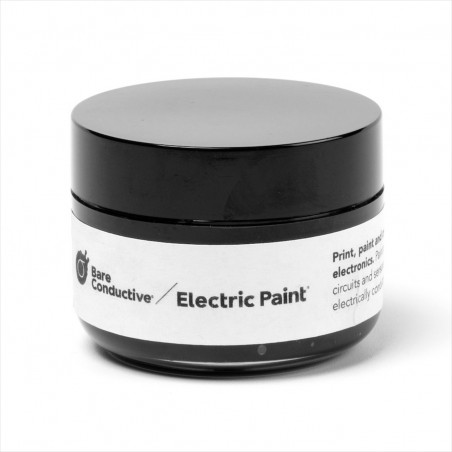  
Bare Conductive - Electric Paint 50ml
Design, discover, create. Your design and electronics projects are about to change forever. Paint and print circuits and sensors or use as a  conductive adhesive on almost anything including paper, plastic, textiles and conventional electronics
If you have any questions on this product please feel free to contact us.
*Disclaimer: The images are merely illustrative.
Data Sheets:
Electric Paint MSDS
Electric Paint Technical Data Sheet
Electric Paint Application Notes
Resources:
Touch Board Workshop Manual
Touch Board Techniques and Inspiration  
Touch Board Basic Projects  
Touch Board Digital Toolkit
TECHNICAL DETAILS
• Conducts electricity when dry
• Paint, stencil or screen print
• Air‐drying
• Nontoxic and solvent free
• Water soluble
• Paint over with water‐based paints
• Screen print up to 0.8m2
• Dries at room temperature in 10-15 minutes
• Must be fully dry to work
• Easily removable with soap and water
• Seal with acrylic paint or spray varnish
• Can last years if treated properly and kept dry
• Works on: paper, cardboard, wood, plastic, glass, plaster, some rubbers, textiles, etc…
• Can be painted or sprayed over for protection or multi-layered circuitry
• Can be used with conductive thread and e-textiles
• Surface resistivity approx 55 ohms/square at 50 microns layer thickness
Extensive project examples and resources at: www.bareconductive.com/make
Precautions of use:
Store in a cool dry place. Use within 6 months of opening. This product has not been tested with an  electrical source exceeding 12V DC or 50mA: therefore use with higher voltages is not recommended. Use in accordance  with the battery manufacturer's instructions. Do not ingest. Children under the age of 14 must be supervised by an adult  whilst using this product. Can be removed with soap and water.
LEVEL: Beginner to Expert Engineer
Paint a Stencil With Electric Paint
Applying Electric Paint with stencils is easy. Whether you're using an existing stencil or designing your own, the following tutorial will give you a quick demonstration on how to stencil with Electric Paint.
A Quick Tutorial on Diluting Electric Paint
People often ask us whether they can dilute Electric Paint, and the answer is yes! However, there's some things you need to keep in mind before you do so. Read this tutorial to find out how you can dilute the paint to maintain its performance.
How To Seal Electric Paint
In this post we talk about a few ways to seal the connections and sensors you've made with different sprays and varnishes. And don't worry – it will still conduct!
You might also like