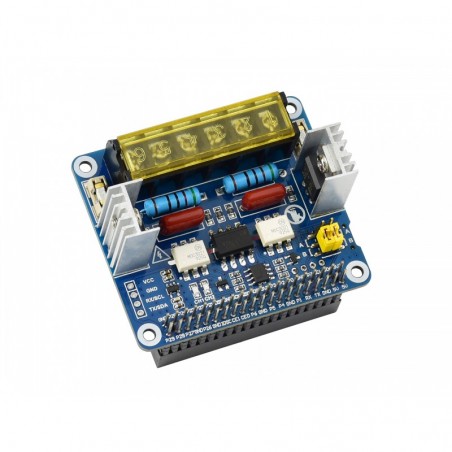  
2-CH Triac HAT for Raspberry Pi, Integrated MCU, UART / I2C
Dual Channels Bidirectional Triac HAT For Raspberry Pi, Integrated MCU, Commands Control, UART / I2C. This HAT is highly efficient, noise-free, quick response, contactless switching, adjustable output. Ideal for industrial control, intelligent home, smart agriculture, and also for breeding and farming.
If you have any questions on this product please feel free to contact us.
*Disclaimer: The images are merely illustrative.
Dual Channels Triac HAT
Bidirectional SCR Isolated HAT, Dual Channels Triac Output Control
Designed for Raspberry Pi 
Advantages Over Relay
High Efficiency, No Mechanical Noise Or Wear, Quick Response, Adjustable Output
Designed For Raspberry Pi Series
Standard Raspberry Pi 40PIN GPIO Header, Customized For Raspberry Pi Series Boards
FEATURES AT A GLANCE
STM32F0 MCU controller, requires minimal Raspberry Pi resource, UART / I2C communication
RC snubber circuit, protect the triac from power fluctuation
Up to 4400W output power, under ideal heat dissipation condition
Optocoupler isolation, preventing interference from the high voltage circuit
Indicator for easy checking the status of triac
Reserved UART and I2C interface, for working with other host control boards
Data rate: up to 921.6kbps for UART,up to 1024kbps for I2C
Comes with development resources and manual (examples in C and Python)
STM32F0 MCU Onboard
Integrates STM32F030 MCU, Supports Directly Command Control, Easy For Developping
Quicker Response, Requires Minimal Resource From The Raspberry Pi
High Data Rate, Always One Step Ahead
Up To 921.6kbps For UART,Up To 1024kbps For I2C
Powerful Output Power
Up To 4400W Output Power, Under Ideal Heat Dissipation Condition
Optocoupler Isolation Safety First!
Optoisolated Solution, Preventing Interference From The High Voltage Circuit
Home Appliance Support
In The Example Of Controlling 220VAC Home Appliances
Applications
What's On Board
BTA24-600 high power bidirectional triac
MOC3021S photocoupler, the triac driver
LTV-824S AC photocoupler
RC snubber circuit
LM358DR OP amplifier
STM32F030F4P6 main controller
RT9193-33PB power chip
Output indicator
20A blow fuse
Standard Raspberry Pi 40PIN GPIO header
MCU control interface, for use with other host control boards like Arduino
AC input
AC output
Data bus selection
A: use Raspberry Pi I2C bus
B: use Raspberry Pi UART bus
Mode selection
A: I2C mode
B: UART mode
Specifications
| | | | |
| --- | --- | --- | --- |
| AC VOLTAGE | 100 ~ 600V | UART DATA RATE | 1.2 ~ 921.6 kbps |
| AC CURRENT | 0~20A | I2C DATA RATE | 1024 kbps |
| CONTROLLER | STM32F030 | LOGIC LEVEL VOLTAGE | 3.3V/5V |
| COMMUNICATION BUS | I2C/UART | DIMENSIONS | 65 × 56.5(mm) |
Pinout Definition
Outline Dimensions
Resources & Services


Comes with example in C and Python
---
WIKI: www.waveshare.com/wiki/2-CH_TRIAC_HAT
* Resources for different product may vary, please check the wiki page to confirm the actually provided resources
PACKAGE CONTENT
Weight: 0.052 kg
2-CH TRIAC HAT x1
Screws x1
1
 2
.
You might also like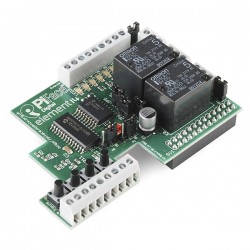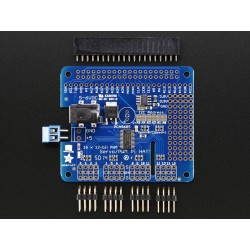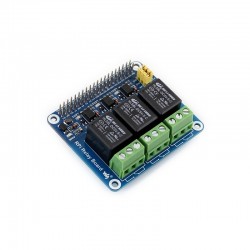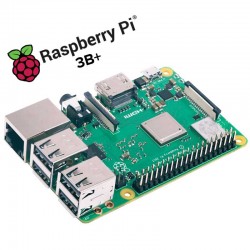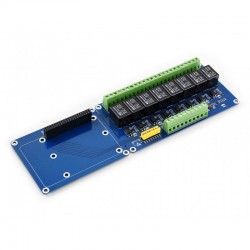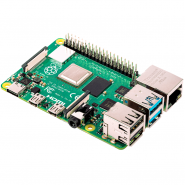 Regular price
€39.27
-€6.55
Price
€32.72