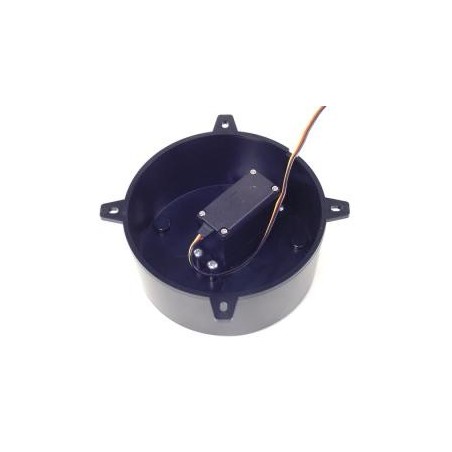  
Base Rotate Kit with HS-422 servo ROB0034
The Base Rotate Kit (servo included) is perfect for rotating a large mass
The Base Rotate Kit is perfect for rotating a large mass. It can easily support 4,5kg of weight. It has five 6mm bearings to reduce the friction. It's injection molded from ultra strong ABS plastic. It fits the HS-422, HS-475, HS-485, and HS-645 servos. Other have not been tested. The kit comes without assembly.
Base Unit Specification
Bottom diameter = 98,425 mm
Height = 47,625 mm
Shipping List
Base Unit (1 unit)
Hitec HS422 Servo (1 unit)
Assembly Guides
Assembly Guide (online) for the Base Rotate Turntable (a project example)
HS-422 Servo Information
The HS-422 has been around for a while and for a good reason, durability and the ability to be easily modified. For inexpensive robotic applications this the perfect servo. Simply a great servo at a great price.
HS-422 Servo Specifications
Control System: +Pulse Width Control 1500usec Neutral
Required Pulse: 3-5 Volt Peak to Peak Square Wave
Operating Voltage: 4.8-6.0 Volts
Operating Temperature Range: -20 to +60 Degree C
Operating Speed (4.8V): 0.21sec/60° at no load
Operating Speed (6.0V): 0.16sec/60° at no load
Stall Torque (4.8V): 45.82 oz/in. (3.3kg.cm)
Stall Torque (6.0V): 56.93 oz/in. (4.1kg.cm)
Operating Angle: 45 Deg. one side pulse traveling 400usec
360 Modifiable: Yes
Direction: Clockwise/Pulse Traveling 1500 to 1900usec
Current Drain (4.8V): 8mA/idle and 150mA no load operating
Current Drain (6.0V): 8.8mA/idle and 180mA no load operating
Dead Band Width: 8usec
Motor Type: 3 Pole Ferrite
Potentiometer Drive: Indirect Drive
Bearing Type: Dual Oilite Bushing
Gear Type: Nylon
Connector Wire Length: 11.81" (300mm)
Weight: 1.6oz (45.5g)
HS-422 Servo Specifications Download

Announced specification of HS-422 Standart Delux Servo here