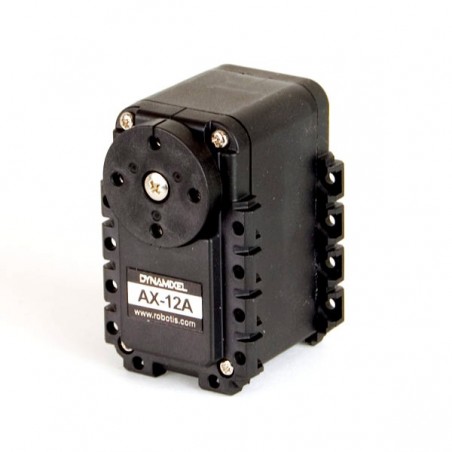  
DYNAMIXEL AX-12A
AX-12A is a new version of the AX-12+ with the same performance, but more advanced external design. It is 100% compatible with AX-12+ at 1:1 scale, with the same control method.
If you have any questions on this product please feel free to contact us.
*Disclaimer: The images are merely illustrative.
** CAUTION 
Gear design was changed to improve durability. The AX-12A Gear Set (SKU No. 902-0087-001) will not be compatible with former AX-12+ Gear Set (SKU No. 903-0087-000).
** INCLUDES
Description

Qty

DYNAMIXEL

AX-12A

1

HORN

B01-HORN

1/assembled

FRAME

FP04-F2

1

FP04-F3

1

BPF-WA/BU Set

1

CABLE

3P Cable 200mm

1

BOLT/NUT

Bolt PHS M2*6

16pcs

Bolt PHS M3*10

1

N1 NUT M2

16pcs
** H/W SPECS
Product name

DYNAMIXEL AX-12A

Weight

54.6g

Dimension

32mm x 50mm x 40mm

Gear Ratio

254 : 1

Operation Voltage (V)

12

Stall Torque (N.m)

1.5 (12V)

Stall Current (A)

1.5

No Load Speed (RPM)

59 (12V)

Motor

Cored Motor

Minimum Control Angle

about 0.29 degrees x 1,024

Operating Range

Actuator Mode : 300 degrees

Wheel Mode : Endless turn

Operating Voltage

9~12V (Recommended voltage : 11.1V)

Max. Current

900mA

Standby Current

50mA

Operating Temperature

-5C ~ 70C

Command Signal

Digital Packet

Protocol

Half duplex Asynchronous Serial Communication (8bit,1stop,No Parity)

Link (physical)

TTL Level Multi Drop (daisy chain type Connector)

ID

254 ID (0~253)

Baud Rate

7843bps ~ 1 Mbps

Feedback Functions

Position, Temperature, Load, Input Voltage, etc.

Material

Case : Engineering Plastic

Gear : Engineering Plastic

Position Sensor

Potentiometer

Default Setting

ID #1 (1 Mbps)
**Click : Compatibility Chart
**CONTROLLING ENVIRONMENT
- Software for Dynamixel control : ROBOPLUS - Download
- C/C++, C#, Labview, MATLAB, Visual Basic et. : Library – Download
**Click here to download 2D and 3D drawings
You might also like