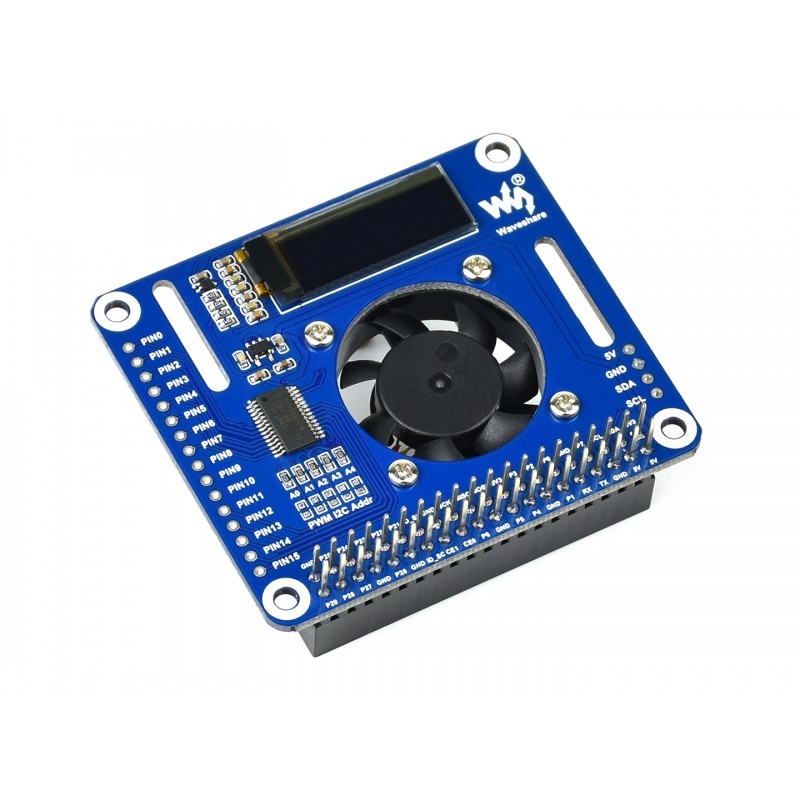  
PWM Controlled Fan HAT for Raspberry Pi, I2C, Temperature Monitor
PWM Controlled Fan Speed Via I2C Bus, Real Time Temperature Monitor
If you have any questions on this product please feel free to contact us.
*Disclaimer: The images are merely illustrative.
Fan HAT For Raspberry Pi
PWM Controlled Fan Speed Via I2C Bus, Real Time Temperature Monitor
Comes with manual and examples in C / Python


Designed For Raspberry Pi Series
Standard Raspberry Pi 40PIN GPIO Header, Customized For Raspberry Pi Series Boards
FEATURES AT A GLANCE
PCA9685 PWM driver as the fan controller, powerful driving capability, auto PWM adjustment
0.91" OLED, 128x32 pixels, displays board temperature or other user-defined content in real time
Adopts 3007 size PWM controlled fan, up to 8000rpm speed, brings strong airflow
Supports retrieving temperature data in real time, and then adjusting the speed automatically, programmable configuration
I2C pins, for connecting other host control boards
16-ch PWM outputs, for driving other external PWM devices
Comes with heat sinks, better cooling effect
PCA9685 Fan Controller
Up To 16-Ch PWM Outputs, Powerful Driving Capability, Auto PWM Adjustment
Combined With The Included Heat Sinks, Achieving Better Cooling Effect
0.91" OLED Mini Display
128×32 Pixels, I2C Controlled
Displays Board Temperature Or Other User-Defined Content In Real Time
What's On Board
Standard Raspberry Pi 40PIN GPIO header
PCA9685 PWM driver
3007 size PWM controlled adjustable fan
PCA9685 I2C address configuration
Reserved I2C control pins
Reserved PCA9685 output channels
0.91" OLED display
Pinout Definition
Specifications
| | | | |
| --- | --- | --- | --- |
| POWER SUPPLY VOLTAGE | 5V | LOGIC LEVEL VOLTAGE | 3.3V |
| FAN DRIVER | PCA9685 | OLED DRIVER | SSD1306 |
| CONTROL BUS | I2C | OLED RESOLUTION | 128×32 |
| FAN PWM DRIVER DUTY CYCLE | ≥25% | OLED DISPLAY COLOR | White |
| FAN SPEED (MAX) | 8000rpm | OLED VIEWING ANGLE | >160° |
Outline Dimensions
Resources & Services


 Comes with manual and examples in C / Python
---
WIKI: www.waveshare.com/wiki/Fan_HAT
* Resources for different products may vary, please check the wiki page to confirm the actually provided resources.
PACKAGE CONTENT
Weight: 0.04 kg
Fan HAT x1
PI4-HEATSINK-SET x1
Male header x1
Standoffs pack (2pcs) x1
1
2
3
4
You might also like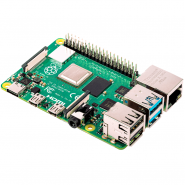 Regular price
€43.50
-€11.55
Price
€31.95