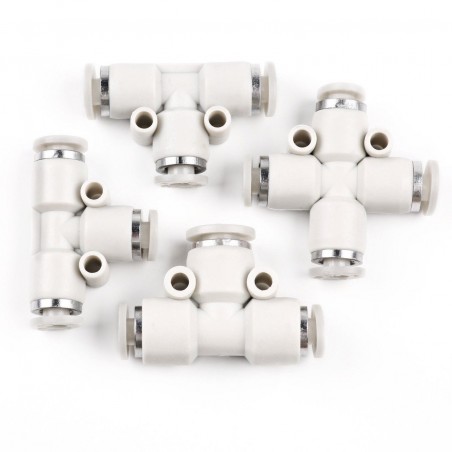  
Makeblock - Pneumatic Parts Connector Pack
Makeblock Pneumatic Parts Connector Pack includes 3 types of frequently-used pneumatic connectors: 2 x φ4 T-Coupling, 1 x φ6 - φ4 Reducing T-Coupling, and 1 x φ4 Cross Four-Way Connector
If you have any questions on this product please feel free to contact us.
*Disclaimer: The images are merely illustrative.
Description:
Makeblock Pneumatic Parts Connector Pack includes 3 types of frequently-used pneumatic connectors: 2 x φ4 T-Coupling, 1 x φ6 - φ4 Reducing T-Coupling, and 1 x φ4 Cross Four-Way Connector.

Features:
φ4 T-Coupling
A T-shaped three-way connector with a diversion function, cooperated with control elements in pipeline system and used with φ4 air pipe.
φ6 - φ4 Reducing T-Coupling
One end is used with φ6 air pipe and the other two ends with φ4 air pipe. The channel is of T-through type and reduces the φ6 air pipe to φ4 air pipe.
φ4 Cross Four-Way Connector
It is a cross-shaped four-way connector with a diversion function, cooperated with control elements in pipeline system and used withφ4 air pipe.
Cross-shaped four-way and even division.

Size Charts(mm):
φ4 T-Coupling



φ6 - φ4 Reducing T-Coupling

φ4 Cross Four-Way Connector



Connection Illustration:
φ4 T-Coupling

φ4 Cross Four-Way Connector
φ6 - φ4 Reducing T-Coupling
You might also like