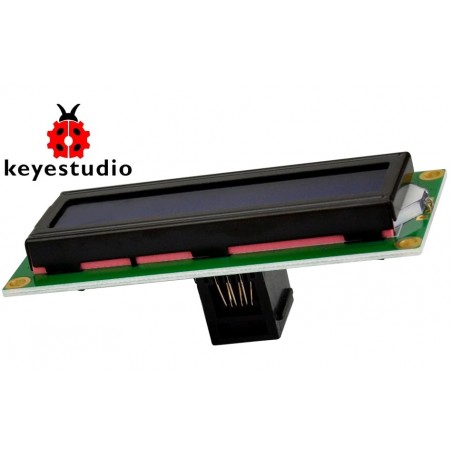  
i2c 1602 LCD Module - RJ11 EASY plug - Keyestudio KS0381
This is a basic 16-character, 2-line LCD display module.
The LCD module displays white text on a blue background and comes with an I2C communication interface.
You can use only one line to connect it to the microcontroller I2C communication interface.
At the rear it comes with a potentiometer, which can be used to adjust the backlight, with standard address 0x27. It is very easy for you to connect the module to the control board for communication using only one RJ11 cable
If you want to know more about this product, please check the Wiki Page
If you have any questions on this product please feel free to contact us.
*Disclaimer: The images are merely illustrative.
Overview
This is a basic 16 character by 2 line LCD display module.
The LCD module displays white text on blue background, and comes with I2C communication interface.
You can use only one line to connect it to microcontroller's I2C communication interface.
On the back comes with a potentiometer, which can be used to adjust the backlight, with default address 0x27.
It is very easy for you to connect the module to control board for communication using only an RJ11 cable
Documents
You might also like