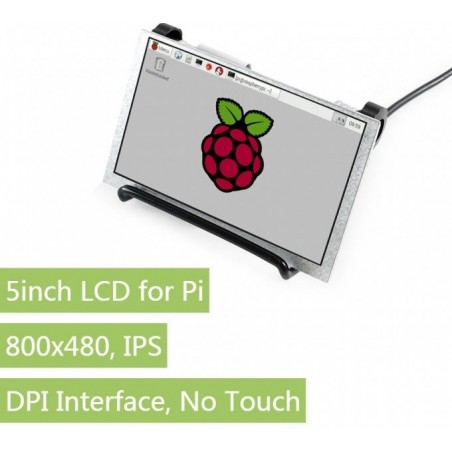  
5inch IPS Display for Raspberry Pi, DPI interface, no Touch, 800x480
If you have any questions on this product please feel free to contact us.
*Disclaimer: The images are merely illustrative.
Features
5inch IPS screen, 800x480 hardware resolution
Standard Raspberry Pi 40PIN GPIO extension header, supports Raspberry Pi series boards
The LCD is directly driven by Raspberry Pi DPI interface, refresh rate up to 60Hz
Supports Raspbian, Ubuntu, OSMC, etc.
Backlight can be turned off to lower power consumption
Compact size, suit for various projects
Note: This item can be used for displaying ONLY, if touch panel is required, please consider 5inch HDMI Capacitive Touch LCD OR 5inch HDMI Resistive Touch LCD.
Dimensions
Development Resources
Package Content
Weight: 0.155 kg
You might also like