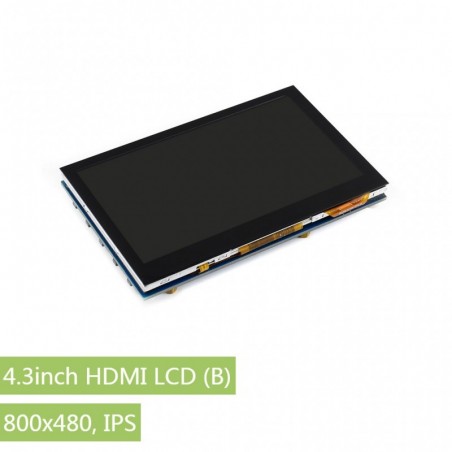  
4.3inch HDMI LCD (B), 800x480, IPS, supports various systems, capacitive touch
PS screen, 800x480 hardware resolution, configurable by software (up to 1920x1080)
Supports popular mini PCs such as Raspberry Pi, BB Black, Banana Pi, as well as general desktop computers
If you have any questions on this product please feel free to contact us.
*Disclaimer: The images are merely illustrative.
Features
IPS screen, 800x480 hardware resolution, configurable by software (up to 1920x1080)
Supports popular mini PCs such as Raspberry Pi, BB Black, Banana Pi, as well as general desktop computers

When works with Raspberry Pi, supports Raspbian/Ubuntu/Kali/Retropie/WIN10 IOT, driver free
When work as a computer monitor, supports Windows 10/8.1/8/7, five-points touch, and driver free

Multi languages OSD menu, for power management, brightness/contrast adjustment, etc.
3.5mm audio jack, speaker connector, supports HDMI audio output
Using with Game Consoles
Note:
Limited by the game console OS, the touch function is unavailable.
Sound support means, it is possible for the game console to output sound signal via LCD embedded speaker, external speaker interface, or earphone jack.
External Dimension
Development Resources
Wiki : www.waveshare.com/wiki/4.3inch_HDMI_LCD_(B)
Selection Guide
Note :
Pi 3B+ means Raspberry Pi 3 Model B+
If the LCD is intended to play videos, please choose the one with HDMI display interface for better experience.
Display Interface ※: 3.2inch RPi LCD (C), 3.5inch RPi LCD (C) features 125MHz High-Speed SPI, provides higher refresh rate than normal I/O interface.
Toughened Glass Cover ※: the 7inch HDMI LCD (H) (with case) features toughened glass cover, while the 7inch HDMI LCD (H) uses a normal screen cover
Have a look :

Package Content
Weight: 0.185 kg
Note: Raspberry Pi and Speaker (8Ω 5W) are NOT included.
4.3inch HDMI LCD (B) x1
HDMI cable x1
USB type A plug to micro B plug cable x1
HDMI adapter (B) x1
USB adapter (B) x1
Screws pack x1
You might also like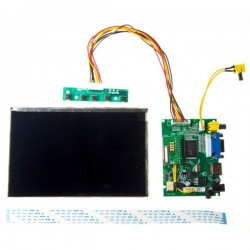 Regular price
€88.62
-€51.20
Price
€37.42