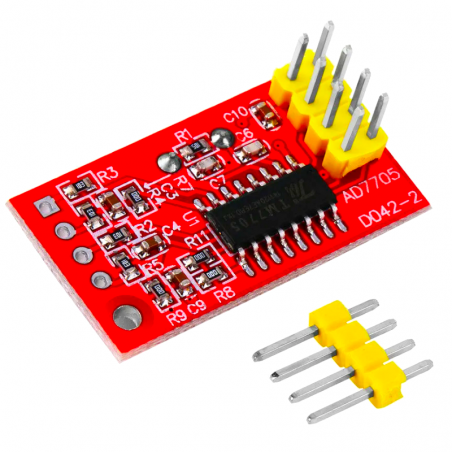  
AD7705 Dual 16 bit ADC Module with Programmable Input Gain and SPI Interface TM7705
The AD7705 is analog-to-digital converters (ADC)
with on-chip digital filtering, intended for the measurement of
wide, dynamic range, low frequency signals, such as those in
industrial-control or process-control applications. Each contains
a (or charge-balancing) ADC, a calibration microcontroller
with on-chip static RAM, a clock oscillator, a digital filter, and a
bidirectional serial communication port.
If you have any questions on this product please feel free to contact us.
*Disclaimer: The images are merely illustrative.
AD7705: 2 fully differential input channel ADCs
16 bits no missing codes
0.003% nonlinearity
Programmable gain front end: gains from 1 to 128
3-wire serial interface
Schmitt-trigger input on SCLK
Ability to buffer the analog input
Power dissipation 1 mW maximum @ 3 V
Standby current 8 μA maximum
16-lead PDIP, 16-lead SOIC, and 16-lead TSSOP packages
2.7 V to 3.3 V or 4.75 V to 5.25 V operation
MCU interface: SPI®-, QSPI™-, MICROWIRE™-, and DSP-compatible
the main ADC chip: AD7705 
an external reference voltage LM285-2.5 (imported genuine original)
the input circuit with a resistor divider and the RC filter,
enabling customers to change their own gain range
the chip with programmable gain amplifier, the gain range: 1-128 times
Data Sheet TM7705/AD7705
Arduino Library Github
Arduino Library Zip File Github
You might also like