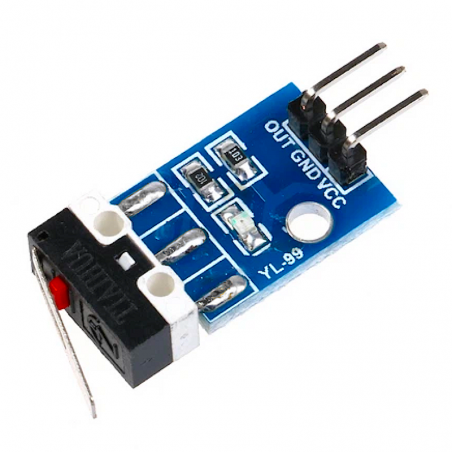  
Module SENSOR IMPACT Microswitch FOR ROBOT
The crash sensor, also known as an electronic switch, is a digital on-off input module necessary for elementary electronic learning.
If you have any questions on this product please feel free to contact us.
*Disclaimer: The images are merely illustrative.
Using the 3P sensor cable to connect to the sensor shield, it can be installed on the 4WD mobile robot platform to realize the collision detection function. It is convenient and efficient. The module reserves the M3 mounting hole, convenient for fixing on a platform.
1.The module installation forefront of collision, the module output low, there is no collision, the output high. 
2.Module reserved M3 mounting holes for easy fixing in a small car. 
3.Module size: 2.5cm * 1.9cm.
4.with a light switch, there is a collision, lights, no collision lights out. 
Module Pin Description 
1.VCC:  3v-12v power supply 
2.GND:  then the power ground 
3.OUT:  high and low output 
You might also like