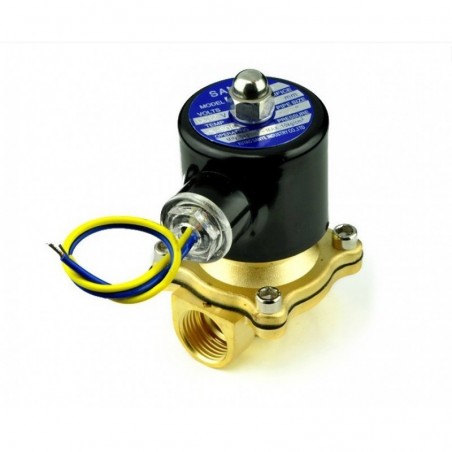  
Solenoid Valve 1/2" 220VAC
As a kind of industrial equipment controlled by solenoid, solenoid valve has been widely used in industrial control system to adjust parameter, including direction, flux and speed. Fast, efficient and safe, this product can coordinate with various circuits to realize expected controlling.
If you have any questions on this product please feel free to contact us.
*Disclaimer: The images are merely illustrative.
This product uses voltage-controlled switch. Compared with traditional manual-controlled one, it is more safe and convenient.
Note: Your installment should base on  the flow direction noted on the body of this product, otherwise it cannot work properly.
Technical parameter:
Body material: brass
Dimensions: (L)62x(W)55x(H)102mm
Operating voltage: DC12V/AC220V
Applicable fluid: air, water, oil
Motion pattern: directly operated type
Type: normally-closed
Flux aperture: 16mm
Tube aperture: 1/2"
Operating temperature: -5℃~ +80℃
Pressure range: 0~1.0Mpa
You might also like