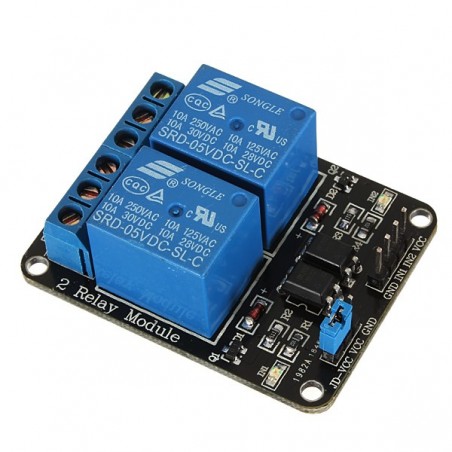  
2 Relay Module 5V opto-isolated
This 5V Relay Module with 2-channel OPTICAL INSULATED is the perfect alternative for those looking for a compact, quality module for projects with Arduino and other controllers.
If you have any questions on this product please feel free to contact us.
*Disclaimer: The images are merely illustrative.
With this module you can drive 220V AC loads such as light bulbs, electronics, motors, or use it to insulate between one circuit and another. The module is equipped with high quality transistors, optocouplers, connectors, LEDs, diodes and relays. Each channel has an LED to indicate the state of the relay output.
Specifications:
- Model: SRD-05VDC-SL-C (Datasheet)
- Operating Voltage: 5VDC
- Allows you to control 220V AC loads
- Typical operating current: 15 ~ 20mA
- LED status indicator
- Terminals: Normal Open, Normal Closed and Common
- Output voltage: (30 VDC to 10A) or (250VAC to 10A)
- 3mm holes for fixing to plate ends
- Response Time: 5 ~ 10ms
- Dimensions: 51 x 38 x 20mm
 
You might also like