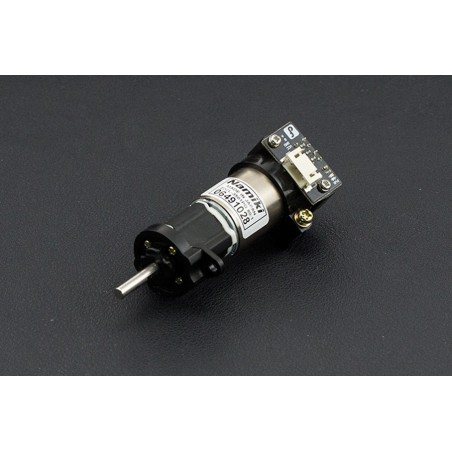  
Namiki 12V Coreless DC Motor 120rpm w/Encoder (16.5kg*cm) (USED)
If you have any questions on this product please feel free to contact us.
*Disclaimer: The images are merely illustrative.
INTRODUCTION
This geared motor is made from Japan; its model is 22CL-3501PG. It comes with the photoelectric encoder output, planetary gear reducer and 80:1 gear ratio, which provide 120 rpm with 12VDC rated voltage.

The encoder ouput is compatible with DFRobot's Gravity interface.
SPECIFICATION
Brand: Namiki Coreless Motor (Japan)
Model: 22CL-3501PG
Operating Voltage: 12VDC
Rated power: 15W
Stall torque: 16.5kg*cm
Continuous torque: 5kg*cm
Diameter: 22mm
Shaft length: 19mm (with 90 degree double-cut)
Length: 65mm (includes encoder gear box)
Stall current: 1.8A
Reduction ratio: 80:1 (metal planetary reduction gear)
Output speed: 120 RPM@12VDC
Weight: 140g
DOCUMENTS
SHIPPING LIST
Namiki 12V Coreless DC Motor 120rpm w/Encoder x1
Encoder cable x1
You might also like