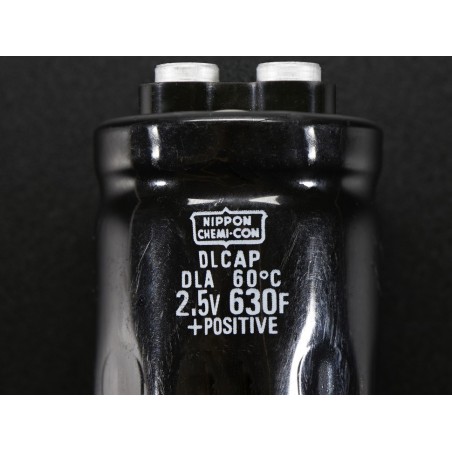  
Super Capacitor - 2.5V 630 Farad
If you have a super-cap project that needs up to 630 Farads of capacitance, check it out. Like most super-caps it has a 2.5V-max rated voltage, and remember that unlike a voltage-output battery the voltage drops immediately as it discharges.
If you have any questions on this product please feel free to contact us.
*Disclaimer: The images are merely illustrative.
DESCRIPTION

When I was studying power supply electronics in school, the instructor always talked about adding BFC's to the circuit - Big Freakin' Capacitors. This here is UHFC - Unbelievably Huge Freaking Capacitor.

You can use this as a stand-in for a battery, its huge but can charge fast and doesn't degrade like NiMH or Li-Ion/LiPoly batteries. We like to refer to this MAXIM super-cap calculator to figure out how long we can run a project.

Super capacitors are powerful beasts: the ultra low ESR means that shorting the outputs will create a big spark! Care must be used when working with charged super-caps, these are only for experts who are comfortable with high-current-capable power supplies.



TECHNICAL DETAILS

Dimensions:

2.5V rated maximum voltage. 630 Farads.
This datasheet covers the DL series, this is the older version of what is now the 700F rated cap so the specs will be similar
105mm long x 35mm diameter / 4.1" long x 1.4" diameter
Weight: 135.2g