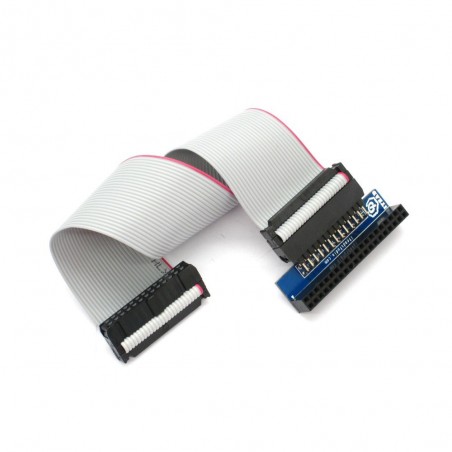  
Raspberry PI LCD Adapter Kit
Simply insert the screen module into the adapter board, then connect the board and Raspberry Pi plate with cable
If you have any questions on this product please feel free to contact us.
*Disclaimer: The images are merely illustrative.

Overview
To facilitate the use of Raspberry Pi and screen module to work together, we specifically developed a simple adapter board and customized a batch of 26-pin (2X13) cable . Simply insert the screen module into the adapter board, then connect the board and Raspberry Pi plate with cable, thus the hardware connection is done, saving the trouble of corresponding connection of each pin.
This adapter kit  is compatible with ITDB02-2.2, ITDB02-2.4E and ITDB02-2.8. NOT compatible with ITDB02-3.2S , ITDB02-3.2WD. 
Connection
| | | | |
| --- | --- | --- | --- |
| Pin of ITDB02 LCD | Pins of Raspberry | Raspberry Pi Pin N.O. | Name |
| DB8 | D0 | 11 | GPIO0 |
| DB9 | D1 | 12 | GPIO1 |
| DB10 | D2 | 13 | GPIO2 |
| DB11 | D3 | 15 | GPIO3 |
| DB12 | D4 | 16 | GPIO4 |
| DB13 | D5 | 18 | GPIO5 |
| DB14 | D6 | 22 | GPIO6 |
| DB15 | D7 | 7 | GPIO7 |
| CS | D10 | 24 | CE0 |
| RS | D8 | 3 | SDA0 |
| WR | D9 | 5 | SCL0 |
| RST | D11 | 26 | CE1 |
| T_CLK | D12 | 19 | MOSI |
| T_CS | D13 | 21 | MISO |
| T_DIN | D14 | 23 | SCLK |
| T_DOUT | D15 | 8 | TXD |
| T_IRQ | D16 | 10 | RXD |
| VCC | +5V | 2 | +5V |
| GND | GND | 6 | GND |
ADDITIONAL INFORMATION
| | |
| --- | --- |
| Link Wiki | N/A |
| Board Color | Green |
| Board Thickness | 1.6mm |
| Base Material | FR-4 |
| Board Size | 51.5 × 21.93 × 11.55mm |
| Surface Finishing | HASL |
| Weight | 15.0000 |
| Model | IM130425001 |
You might also like