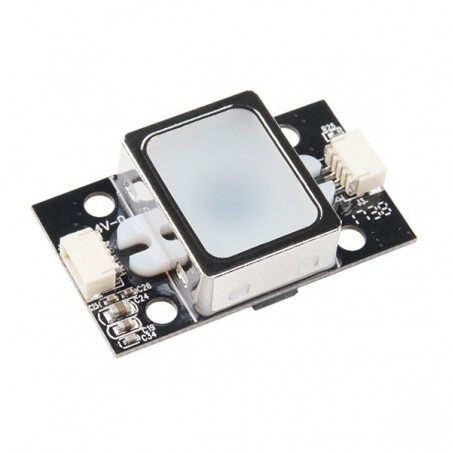  
Fingerprint Scanner - TTL (GT-521F32)
This great GT-521F52 fingerprint module from ADH-Tech communicates over TTL Serial so you can easily embed it into your next project. The module itself does all of the heavy lifting behind reading and identifying the fingerprints with an onboard optical sensor and 32-bit ARM Cortex M3 processor. Storage for 200 unique fingerprints
If you have any questions on this product please feel free to contact us.
*Disclaimer: The images are merely illustrative.
To get started, just register each fingerprint that you want to store by sending the corresponding command and pressing your finger against the reader three times. The fingerprint scanner can store different fingerprints, and the database of prints can even be downloaded from the unit and distributed to other modules. In addition to the fingerprint "template," the analyzed version of the print, you can retrieve the image of a fingerprint and even pull raw images from the optical sensor!
This module is the upgraded version of the GT-521F32 and can store up to an astounding 3,000 different fingerprints! It is capable of 360° fingerprint recognition and download/upload templates using serial interface. Additionally, the GT-521Fxx series features a resolution of 450dpi, with a false acceptance rate of <0.001% and a false rejection rate of <0.1% while only needing <1.5 seconds to identify a unique fingerprint!
The module is small and easy to mount using four mounting holes surrounding the sensor. The onboard JST-SH connector has four signals: Vcc, GND, Tx and Rx. A compatible JST-SH pigtail can be found in the Hookup Accessories section below.
Features:
Simple UART & USB communication protocol
Complies with USB 2.0 full-speed specification
Ultra-thin optical sensor
Resolution 450 dpi
Capable of 360° recognition
Storage for 200 unique fingerprints
Wake up on Finger Function
Works well with dry, moist or rough fingerprints
Anti-scratch with surface high hardness ≧ 5H
1:1 verification, 1:N identification
High-accuracy and high-speed fingerprint identification technology
4x mounting holes
2x JST SH connectors
Documents:
You might also like