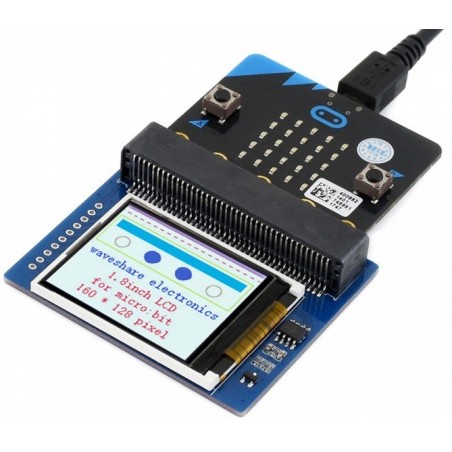  
1.8inch colorful display module for micro:bit, 160x128
This is a colorful display module designed for the BBC micro:bit, 1.8inch diagonal, 160x128 pixels, capable of displaying 65K colors.
Tired of the 5x5 LED matrix? Time to get a tiny monitor for your micro:bit, this one would be the ideal choice.
If you have any questions on this product please feel free to contact us.
*Disclaimer: The images are merely illustrative.
Features
micro:bit edge connector, directly pluggable
Embedded driver ST7735S, supports 65K colors
Onboard SRAM 23LC1024, used as display cache, no more out of memory
SPI interface, takes up only a few IO pins
Backlight adjustment via PWM
Reserved solder pads for control interface, make it easy to connect with Arduino/Nucleo boards
Comes with development resources (micro:bit graphical demo/user manual, etc.)
Specifications
Driver: ST7735S
Resolution: 160x128
Display color: RGB, 65K colors
Operating voltage: 3.3V
Dimension: 61mm x 51.5mm
Pinouts
| PIN | micro:bit PIN | DESCRIPTION |
| --- | --- | --- |
| 3V3 | 3V3 | Power |
| GND | GND | Ground |
| MISO | P14 | SPI data master input/slave output |
| MOSI | P15 | SPI data master output/slave input |
| SCK | P13 | SPI clock input |
| LCD_CS | P16 | LCD chip selection |
| RAM_CS | P2 | SRAM chip selection |
| DC | P12 | LCD data/command |
| RST | P8 | LCD reset |
| BL | P1 | LCD backlight |
Dimensions
Development Resources
Wiki : www.waveshare.com/wiki/1.8inch_LCD_for_micro:bit
PACKAGE CONTENT
Weight: 0.025 kg
1.8inch LCD for micro:bit x1
1
You might also like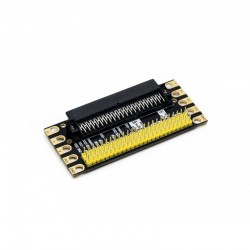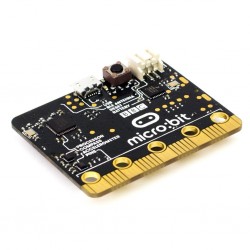 Regular price
€16.99
-€2.44
Price
€14.55