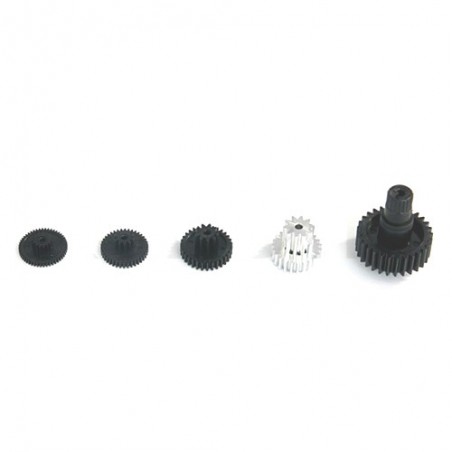  
If you have any questions on this product please feel free to contact us.
*Disclaimer: The images are merely illustrative.
*** NOTICE ***
This is NOT compatible with AX-12+ or AX-18F, because the gear shape is different with former AX-12+/AX-18F Gear Set.
** DESCRIPTION
-         Exclusive gear set for DYNAMIXEL AX-18A
-         Compounded high strength engineering plastic is used.
-         No. 4 gear is made with Aluminum because more power is loaded on it.
-         Can replace gears when it is worn out.
-         Different in shape with AX-12+/AX-18F Gear Set. Can NOT mount on AX-12+ or AX-18F.
** INCLUDES
-         AX-18A Gear No.1 : 1 pcs
-         AX-18A Gear No.2: 1 pcs
-         AX-18A Gear No.3: 1 pcs
-         AX-18A Gear No.4: 1 piece (Made of Aluminum)
-         AX-18A Wheel Gear: 1 pcs
-         Exclusive Grease: 1 pcs
** HOW TO REPLACE THE GEARS (VIDEO)