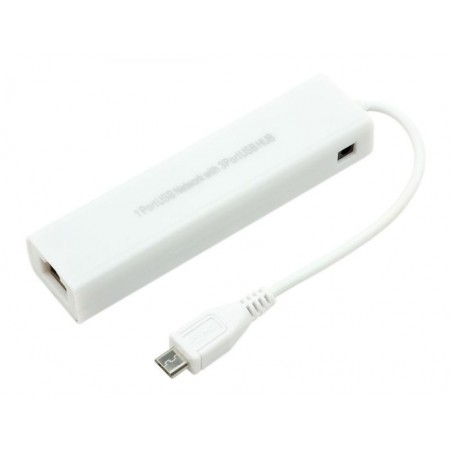  
3 Port USB Hub w/ Ethernet - Micro USB (Pi Zero)
If you have any questions on this product please feel free to contact us.
*Disclaimer: The images are merely illustrative.
Want to add three extra USB ports and ethernet connection to your Raspberry Pi Zero? You need one of these adaptors! This one comes with a Micro USB B input, so it plugs directly into your Raspberry Pi Zero without the need for adaptors or shims!
The hub has three full size USB inputs, so you can easily add USB peripherals like mice, keyboards and WiFi to your Zero! There's even a plug and play RJ45 Ethernet port, so you can get direct network connectivity for your Zero using this hub!
3 Port USB Hub with Ethernet - Micro USB Features:
Fully compatible with the Raspberry Pi Zero
Micro USB 2.0 Input Port
3 x USB Ports
1 x RJ45 Ethernet Port (10/100)
You might also like