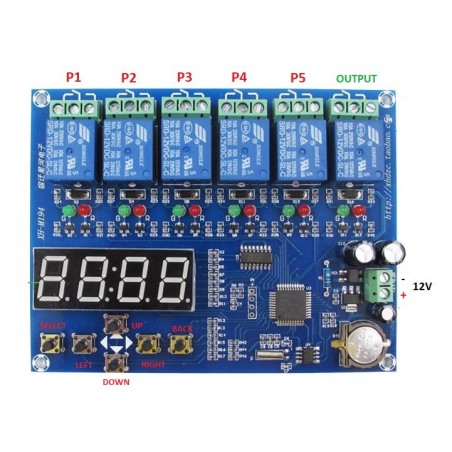  
5 way relay time controller - XH-M194
This module can be Control five way independent relay and one way all Relay Output normally open or Normally closed to get an electric shock
If you have any questions on this product please feel free to contact us.
*Disclaimer: The images are merely illustrative.
Descriptions:
Name: five road timing relay output module
The motherboard power supply: AC/DC12V
The output type: MAX250V10A relay output
Appearance SIZE: 120 * 93 * 19 mm installation empty diagonal 113 * 83 mm
Features
1.This module can be Control five way independent relay and one way all Relay Output normally open or Normally closed to get an electric shock
2.
This module is applied to motor control, water pump control, the control of the boiler
Method of use
1 sets the system time: enter P006, set the time.If you have already set up can ignore time steps
2 open the first channel: press set button to enter P01, change to NO
3 set H1 and H2: after set, press the return key to exit
4 6 road relay for total output, that is, from 1 to 5 any road closed, then the sixth followed closed!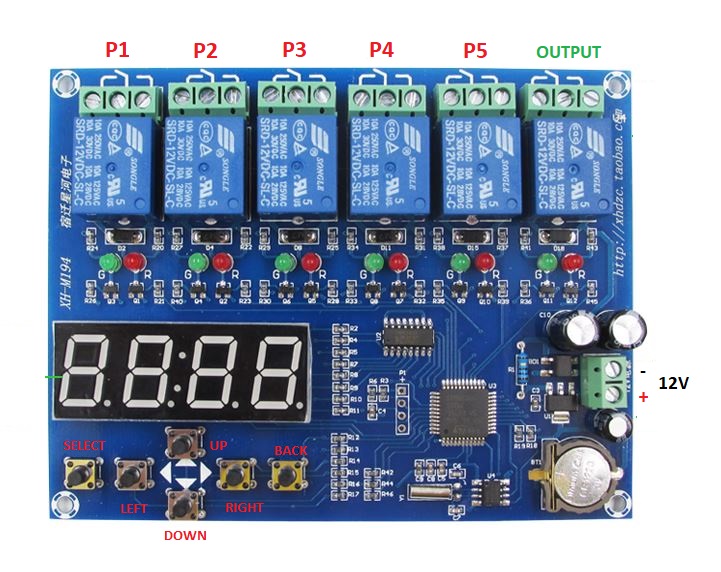 1: press once to enter menu P001 - P007
2: move to the left, setup time effectively
3: moves to the right, set a time effective
4:click a return to the higher level menu
Up-Key: increase in the currently displayed value, setting time, menu available at the time
Down-Keys: reduce the currently displayed value, setting time, menu available at the time
You might also like