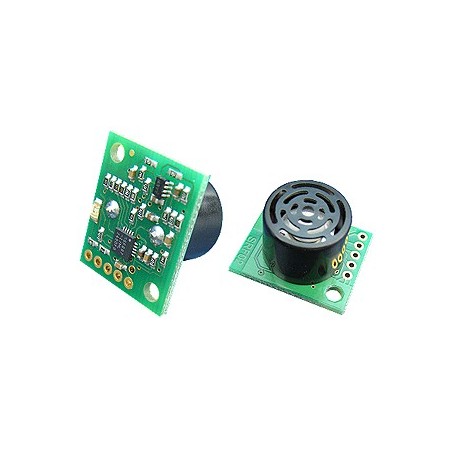  
SRF02
Lowest cost ultrasonic ranger with both I2C and Serial interfaces.
Specifications:
Range - 16cm to 6m
Power - 5v, 4mA Typ
Frequency - 40KHz
Size - 24mm x 20mm x 17mm height
Analogue Gain - Automatic 64 step gain control
Full Automatic Tuning - No calibration, just power up and go
Timing - Fully timed echo, freeing host controller of task
Units - Range reported in uS, cm or inches
Light Weight - 4.6gm
Connection Modes
1 - Standard I2C Bus
2 - Serial Bus - connects up to 16 devices to any uP or UART serial port
More information in the product support page.
* Note: Product may not be exactly as shown in image. Contact us for more information.