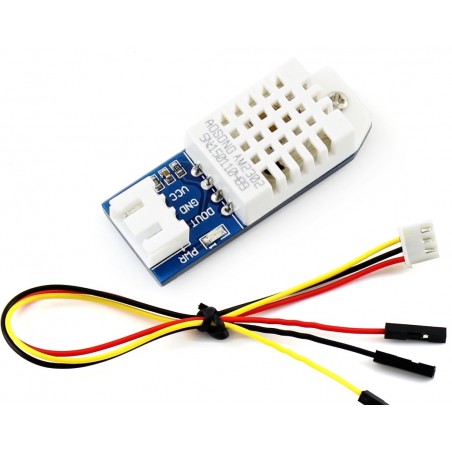  
DHT22 Temperature-Humidity Sensor
If you have any questions on this product please feel free to contact us.
*Disclaimer: The images are merely illustrative.
DESCRIPTION
Temperature-Humidity Sensor, DHT22 Onboard
Overview
This is a calibrated digital temperature and humidity module with onboard sensor DHT22 (AM2302), which features higher accuracy and wider measuring range than DHT11.
It can be used for detecting ambient temperature and humidity, through the standard single-wire interface.
Specifications
Temperature

Resolution : 0.1°C
Accuracy : ±0.5℃
Measuring range : -40°C ~ 80°C

Humidity

Resolution : 0.1%RH
Accuracy : ±2%RH (25°C)
Measuring range : 0%RH ~ 99.9%RH

Operating voltage : 3.3V ~ 5.5 V
Recommended storage condition

Temperature : 10°C ~40°C
Humidity : 60%RH or below
Applications
Weather station
Humidity controller
Test & detection device
How to Use
In the case of working with a MCU:
VCC ↔ 3.3V ~ 5.5V
GND ↔ GND
DOUT ↔ MCU.IO
Dimension
Development Resources
Wiki : www.waveshare.com/wiki/DHT22_Temperature-Humidity_Sensor
PACKAGE CONTENT
Weight: 0.011 kg