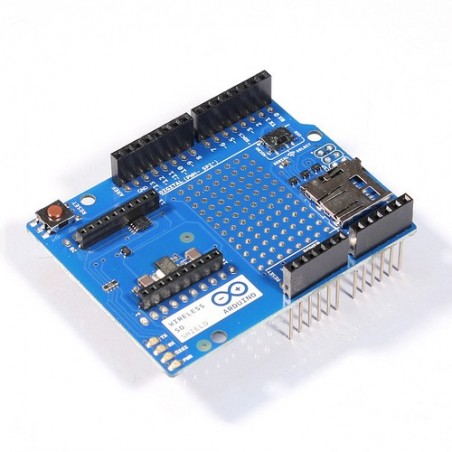  
Wireless Shield SD
Wireless Shield SD - socket Xbee
Description:
The Arduino Wireless SD Shield is a great way to prototype wireless applications thanks to its XBee(TM) compatible socket, prototyping area and sd card connector.
You can use the wireless module from Digi to create a network of Arduino boards, solder parts to the prototyping area to create your project, and use the sd card to store data you can then easily transfer to a computer.
The shields breaks out each of the XBee's pins to a through-hole solder pad. It also provides female pin headers for all the Arduino pins.
Summary:
Requires and Arduino board (not included)
Operating voltage: 5V (supplied from the Arduino Board)
Supports micro SD cards
Socket for wireless expansion modules
Board comes fully assembled and tested.
If you want to give a closer look to this shield we advise you to visit the officialWireless Shield page in the Hardware Section.
You might also like