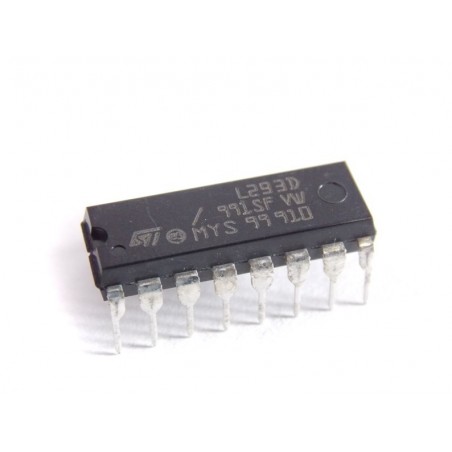  
L293D - Dual H-Bridge for DC Motor or Stepper Driver
The L293D is a versatile chip that can control up to four solenoids, two DC motors or one bi-polar or uni-polar stepper, up to 600mA per channel. This chip is a classic for those who build robots, there are a lot of tutorials and examples using the Arduino and the L293D.
The chip contains two full H-bridges (four half H-bridges) and can control to DC motors bi-directionally. Rated at 600mA it can stand current peaks of 1.2A for a short period. It also comes with built in kick-back diodes, so you dont have to worry about the inductive kick current damaging your motor driver or Arduino.
NOTE: The L293D runs at 5V logic and can control motor voltages from 4.5V up to 36V!
Datasheets: