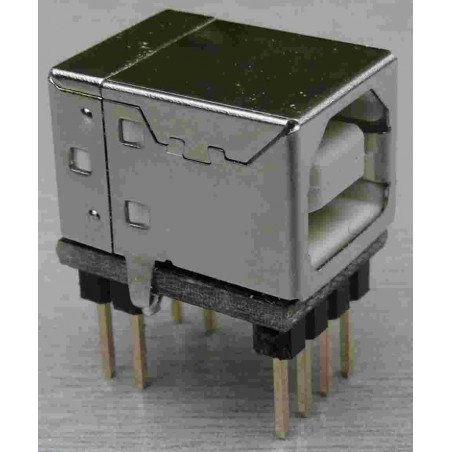  
PoUSB12
Super compact USB-Serial converter PoUSB12 (UART bridge)
Super compact USB-Serial converter PoUSB12 (UART bridge).
Specifications:
USB 2.0 compliant (12Mbps maximum speed)
Suspend supported
Xon/Xoff handshaking supported (300bps to 1Mbps)
UART supports 5-8 bit data, 1-2 Stop bits, odd/even and no parity
Integrated EEPROM for Vendor ID, product ID, serial and release number
On-chip 3.3V regulator available with power on reset circuit
USB powered
TX and RX signal levels are between 0V and 3.3V (5V tolerant)
Temperature range: -40ºC to +85°C
Small size: 17 x 12 x 15 (mm)
Virtual COM port drivers for Windows, Linux and MACOS
Can be used as ICP programmer for LPC2000 microcontrolers
Downloads:
* Note: Product may not be exactly as shown in image. Contact us for more information.