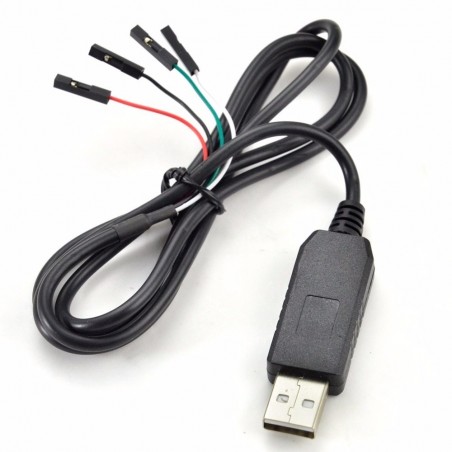  
PL2303 USB to TTL Module
It's a small USB to TTL serial tool, using the PL2303 chip. You can use it to connect some serial device to your PC via USB port.
Available for Linux, WinCE and Windows (XP, 2003), Vista Win 7
For use with Windows 10 choose this model: COM09004
If you have any questions on this product please feel free to contact us.
*Disclaimer: The images are merely illustrative.
Built-in TTL COM PC-PL2303HX Chip Standard USB type A male and TTL 4 pin connector Simple and Easy way to give USB support to your designs Available for Linux, , WinCE and Windows (XP, 2003), Vista Win 7
Black cable-----GND
Green cable-----TXD
White cable-----RXD
Red cable -------VCC
Specifications:
Cable length:about 900 mm
Net weight:25 g
Package weight:35 g
Color:Black