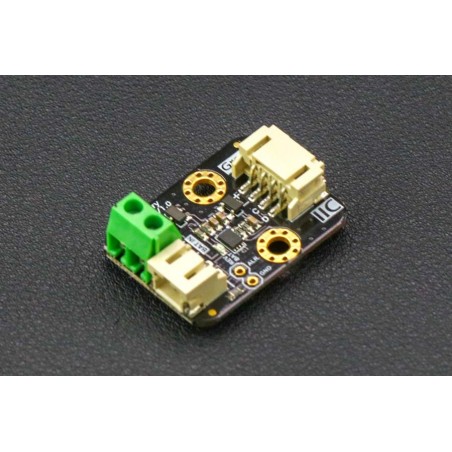  
Gravity: I2C 3.7V Li Battery Fuel Gauge
If you have any questions on this product please feel free to contact us.
*Disclaimer: The images are merely illustrative.
INTRODUCTION
3.7V lithium batteries are commonly used in many projects. However, the remaining power and voltage of the lithium battery are highly nonlinear. We can only roughly judge whether the battery is full or almost empty according to its voltage. The Gravity I2C 3.7V Lithium Battery Fuel Gauge employs Gravity I2C interface, ultra-low operating current, and real-time tracking of the relative state of charge (SOC) of the battery through Maxim's patented algorithm, eliminating the need for full-to-empty relearning and offset accumulation errors. Plug and play to accurately measure the voltage and remaining power of the battery. The module also features as a low battery power alert interrupt function. When the battery power falls below specified threshold, the ALR pin generates a falling pulse to trigger the external interrupt of the controller.

You will find it a great help to estimate the battery life by learning the power consumption of the system with this module. In the solar powered projects, it helps to record the status of the battery power change in a day or even months, which benefits to understand the power balance of charge and discharge of the solar system.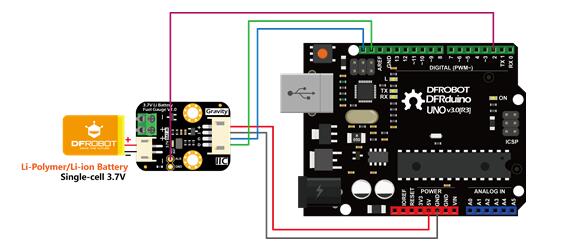 Gravity: 3.7V Li Battery Fuel Gauge Connection Diagram (Arduino UNO)





Gravity: 3.7V Li Battery Fuel Gauge Connection Diagram (Raspberry Pi 3B)
Projects: 
Make a shiny dice for monitoring battery capacity
The materials you may need:
Gravity: I2C 3.7V Li Battery Fuel Gauge
Single Sided ProtoBoard ( flexible PCB )
LED Lamp Beads  ×21
Crystal Epoxy Resin and metal complex dyes
FEATURES
Maxim's Patented Algorithm, accurate voltage and remaining power readings of lithium battery
No Full-to-Empty Relearning Process, No Offset Accumulation Errors, Plug and Play
Wide Input Voltage, Compatible with 3.3V and 5V Controllers
Programmable Low Power Alert Interrupt Threshold
Battery Reverse Connection Protection
APPLICATIONS
Solar Weather Station, Street Light
Lithium Battery Charger
Robotics
SPECIFICATION
Input Voltage (VCC): 3.3V~6.0V
Battery Input Voltage (BAT IN): 2.5V~4.2V
Battery Type(BAT IN): 3.7V Li-polymer/Li-ion battery
Operating Current: 50 uA
Interface: Gravity I2C (logic level: 0-3.3V)
Dimension: 22.0*30.0mm/0.86*1.18 inches
DOCUMENTS
SHIPPING LIST
Gravity: I2C 3.7V Li Battery Fuel Gauge x1
XH2.54-2P Header x1
Gravity-4P I2C/ UART Sensor Wire x1
You might also like