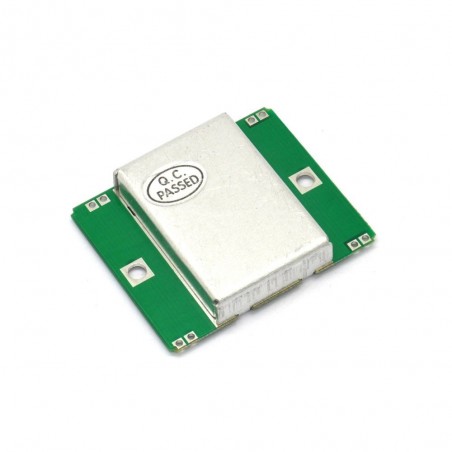  
HB100 Miniature Microwave Motion Sensor
If you have any questions on this product please feel free to contact us.
*Disclaimer: The images are merely illustrative.
Overview
HB100 Miniature Microwave Motion Sensor is a X-Band Bi-Static Doppler transceiver module. Its built-in Dielectric Resonator Oscillator (DRO) and a pair of Microstrip patch antenna array, make it ideal for OEM usage in motion detection equipment.
This module is ideally suitable for false alarms reduction in intrude r detectors when work together with Passive Infrared (PIR) sensor. It can also be used for auto-door opening and vehicle speed measurement.
Features
Low current consumption 

CW or Pulse operation 

Flat profile 

Long detection range
Applications
Microwave-PIR motion detector

Speed measurement

Lighting control 
Antenna Beam Pattern
Outline Diagram  (All dimensions in mm) 
Unless noted otherwise, the specifications are measured with +5VDC, CW operation, 12 k Ω load at ambient 
temperature of +25°C.
Note 1: The radiated emissions of HB100 is designed to meet the requirements of Federal Communications 
Commission (FCC) rules, Part 15, Section 15.245 (use within a building or to open building door) 
Note 2: The Received Signal Strength (RSS) is meas ured at the total 2 ways path loss of 93dB. 
Note 3: The noise voltages are measured from 10 Hz to 100 Hz at the output port, inside an Anechoic 
chamber. 
Note 4: Pulse operation. 
Note 5: The design, manufacturing process and specifications of this device are subjected to change 
without prior notice. 
Note 6: CAUTION: ELECTROSTATIC SENSITIVE DEVICE . Observe precautions for handling and storage.
Schematic
Datasheet