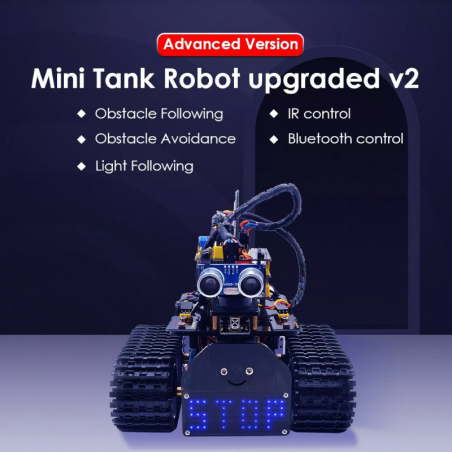  
MINI TANK Robot V2.0 - Keyestudio KS0428
This mini tank is perfect if you want to start in the robotic world, this robot has the ability to follow the line, avoid obstacles and you can even control it through your smartphone. This kit is also easy to assemble as no soldering is required.
If you want to know more about this product, please check the Wiki Page.
If you have any questions on this product please feel free to contact us.
*Disclaimer: The images are merely illustrative.
Overview:
Here comes a keyestudio mini tank robot upgraded V2.This tank robot is essentially a two-drive tracked vehicle. 
The tank robot platform mainly uses the V4.0 control board and L298P driver shield and sensor shield, no soldering and easy to play. 
Mini tank robot is a learning application development system of microcontroller based on Arduino and Mixly blocks. The tank robot kit is designed specifically for those who are interested in learning about Arduino and electronics.
Apart from ultrasonic sensor and Bluetooth module, we particularly add an infrared receiver module, an infrared remote control and two photocell modules and more. So you are able to make a light following, or infrared remote control tank robot. Add more functions on your tank robot than the first version.
In all robot projects, you are able to learn the Mixly blocks coding and Arduino program. It allows you to quickly learn graphic programming in entertaining, nurturing your interest in science and logical thinking.
Upgraded:
1. We used the new control board V4.0 with USB Serial Chip CP2102 instead of official arduino uno board .
2. We added four animal expressions for ultrasonic module which can make the tank robot looks cute and funny.
Motor parameters: 6V, 150rpm/min. 

Motor control by L298P driver shield with power switch.

Equipped with Bluetooth wireless module, can remotely control the robot after pairing with mobile phone Bluetooth. Only support Android system.

With IR receiver module, pairing infrared remote control to control the tank robot.

With Photocell module, detecting the light intensity on both sides of tank robot to control the tank robot.

With the ultrasonic module, measuring the distance between the obstacles and tank robot.

Can access to external 7~12V power supply; match various sensor modules to realize various functions according to your imagination.

Providing the Mixly software and test code, easy to play and simple.
1. Multi-purpose: Obstacle avoidance, follow, IR remote control, Bluetooth control, light following, ultrasonic follow and displayed face emoticons.
2. Simple assembly: No soldering circuit required, complete assembly easily.
3. High Tenacity:Aluminum alloy bracket, metal motors, high quality wheels and tracks.
4. High extension: expand other sensors and modules through motor driver shield and sensor shield
5. Multiple controls: IR remote control, App control(IOS and Android system)
6. Basic programming:C language code of Arduino IDE.
Maximum output current: 2A

Maximum power dissipation: 25W (T=75℃)

Motor speed: 5V 200 rpm/min

Motor drive mode: dual H bridge drive (L298P)

Ultrasonic induction angle: <15 degrees

Ultrasonic detection distance: 2cm-400cm

Infrared remote control distance: 10 meters (measured)

Bluetooth remote control distance: 50 meters (measured)
You might also like