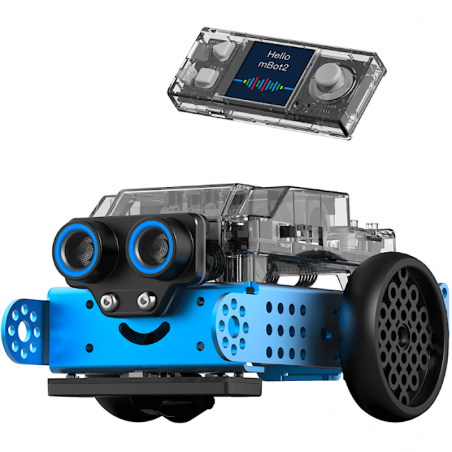  
mBot2 - STEM Educational Programmable Robot Kit
This new version of the mBot offers greater possibilities of programming, creation of projects and is a significant asset for robotic competitions. The 2 encoder motors of the mBot2 make it more precise (5°) and powerful than ever, its shield, which hosts the CyberPi, also brings its share of advantages such as: an integrated 2500mAh battery, the possibility to connect 4 servomotors and 2 DC motors in addition to the 2 encoder motors of the mBot2 as well as the mBuild modules The traditional sensors: the line follower and the ultrasonic sensor have also evolved.
If you have any questions on this product please feel free to contact us.
*Disclaimer: The images are merely illustrative.
KEY FEATURES

 

CyberPi integrates a full color display, speaker, microphone, light sensor, gyroscope, LED strips and more into one device; the in-built Wi-Fi + Bluetooth module allows for connection to the internet so it's empowered with some great AI and IoT functionalities, such as speech recognition, voice synthesis, account cloud broadcast, LAN broadcast and uploading data to Google Sheet over the internet.

mBot2 Shield features an in-built rechargeable li-ion battery (2500mAh), two ports for encoder motors, two ports for dc motors and four ports for servos. Some of the servo ports can connect to LED strips, Arduino analog/digital sensors. mBot2 is thusly fully prepared for students and teachers who may have special needs for motor drivers in terms of amount and type.

The USB Type-C Cable connects CyberPi to the software for coding or to the shield for providing power.

Ultrasonic Sensor 2 owns 8 dazzling ambient lights. So it can convey more subtle emotions at the same time while measuring distance precisely. Its fully injection-molded casing provides better protection for the module.

Quad RGB Sensor can detect lines and colors at the same time. And its quad channel design makes precise detection of intersections possible. Its ambient lights help reduce the false identification rate. The fully injection-molded casing provides better protection for the module.

Precision control - 180 Optical Encoder Motor

180 Optical Encoder Motor comes with 1.5Kg·cm torque, a speed of 200RPM and detection accuracy of 1°, delivering stable mechanical power to the robot.

mBot is compatible with the vast catalog of Makeblock platform components and mBuild modules, so students are limited only by their imaginations.

OVERVIEW

mBot2 is a next-generation educational robot designed with extended capabilities, starting as an entry-level solution in lower secondary education and going all the way to upper secondary and beyond.

mBot2 is powered by CyberPi, an educational microcontroller enhanced with network capabilities, built-in sensors and much more.

This successor to the very popular mBot v1.1, new mBot2 blends metal parts, powerful hardware, block-based coding and Python coding into one single robot.

It features a brand new AI-powered programmable control board, high-precision encoder motors and a newly-designed sensor system. Students learn more about computer & sicence, IoT, AI, block-based coding and Python as they are designing and assembling their robots.

The robot has the ability to connect wirelessly, thanks to a powerful CyberPi microprocessor, and learning and play gain a new dimension thanks to the built-in long-lasting battery with a capacity of 2,500 mAh and built-in sensors of the new generation.

mBot2 is designed for students to carry out interactive and smart lessons that are engaging, fun and reflecting real-world applications with cutting-edge technologies, including robotics, AI, IoT and Data Science.

With mBlock's enhanced coding learning experience, mBot2 allows students and educators to begin with the block-based coding approach, and seamlessly transition into object-oriented coding with Python, all in the same environment.

mBot2 is ready to use right out of the box thanks to its straightforward design. And it has great extension capabilities so it can connect to extension modules and metal parts to fit into different educational settings.

 

Makeblock mBot series

Makeblock mBot Series is an Arduino-based robotics platform. All the models are compatible with Makeblock DIY platform, which contains 600+ mechanical and electronic parts. Easy-to-use Scratch-based learning platform mBlock brings the cutting-age technology to the classroom, which enables every child to be able to learn programming, robotics, electronics, mechanics, AI, IoT and other STEAM related topics easily. The series includes mBot, mBot Ranger and Ultimate 2.0 kits.

 

What is mBot?

mBot is a STEAM education robot for beginners, that makes teaching and learning robot programming simple and fun. With just a screwdriver, the step by step instructions, and a study schedule, children can build a robot from scratch and experience the joys of hands-on creation.

 

What are the benefits of learning with mBot?

As they go, they will learn about a variety of robotic machinery and electronic parts, get to grips with the fundamentals of block-based programming, and develop their logical thinking and design skills.

SOFTWARE

mBlock 5:

A powerful platform for coding designed for STEAM education

MAKEBLOCK APPS

RECOMMENDED FOR

8+
__________________________________________________________________________________________________________________________________________________________________________
 __________________________________________________________________________________________________________________________________________________________________________
COMPARASION mBot1 vs. mBot2
CONTROL BOARD

Specification

mBot 1.1

mBot2

Main Control

mCore 

CyberPi 

Processor

ATmage328/P 

ESP32-WROVER-B

Clock speed

20MHz 

240MHz 

ROM 

1KB 

448KB 

SRAM 

2KB 

520KB 

SPI Flash  

/ 

8MB 

PSRAM 

/ 

8MB 

Wireless communication

Bluetooth ili 2.4G (depends on version) 

IR broadcast

Bluetooth + Wi-Fi 

Wi-Fi LAN 

Input

Button

Reset button

5-way joystick

Button × 2 

Reset button

Onboard Sensors

Light sensor

Light sensor

Microphone (record and detect sounds) 

Gyroscope

Accelerometer

Output

Buzzer

RGB LED × 2 

1.44'' full color display

Speaker

RGB LED × 5 

Switch mode 

Firmware update required.

No firmware update required.

Support multithreading

No

Yes

How many programs can be stored

1  

8+ 

Support Python coding

No

micro-python+

Python3 

EXPANSION CAPABILITIES AND BATTERY

Specification

mBot 1.1

mBot2

Encoder motor interface

0 

2 

DC motor interface

2 

2 

Digital servo interface

0 

4 

LED strip-compatible interface

0 

2 (integrated with the sevo interface) 

Arduino-compatible interface

0 

2 (integrated with the sevo interface) 

Expandable electronic modules

4 RJ25 Ports – one sensor each port

10+chain up with 1 mBuild port (use CyberPi's mBuild interface)

Type of battery

LiPo rechargeable

LiPo rechargeable

Placement

External

Internal

Capacity

1800mAh 

2500mAh 

Discharge rate

1CC 

3CC 

MOTORS

Specification

mBot 1.1

mBot2

Motor type

DC

Encoder 

Rotating speed

47~118RPM±10% 

1~207RPM 

Precision of rotation

/ 

≤5° 

Sensitivity

/ 

1° 

Stall torque

/ 

 

Rated torgue

≥672g·cm 

800g·cm 

Output shaft material

Plastic

Metal

Move straight

Only the command "move forward for xx secs" is available

≤2% deviation

The command "move forward xx mm" is available

Serve as a smart servo

No

Yes

Allowing angle control of ≤5° 

Serve sa a knob

No

Yes

Allowing a sensitivity of 1° 

QUAD RGB SENSOR

Feature

mBot 1.1

mBot2

Plastic casing improves durability and quality

Not included.

Line-following sensor

2  

4  

Color sensor

Not included.

4 (integrated with the line-following sensor) 

Ambient light calibration significantly reduces interferences of ambient lights im mBot2's line following performance

Not included

Included.

ULTRASONIC SENSOR

Features

mBot 1.1

mBot2

Plastic casing improves durability and quality

Not included.

Built-in chip comes with greater consistency in readings

Not included.

Atmosphere LED lights provide additional light display

Not included.

8  
__________________________________________________________________________________________________________________________________________________________________________
PART LIST
| | |
| --- | --- |
| 1 × CyberPi | 1 × USB Cable (type-C) |
| 1 × mBot2 Shield | 2 × mBuild Cable (10cm) |
| 1 × Quad RGB Sensor | 1 × mBuild Cable (20cm) |
| 1 × Ultrasonic Sensor2 | 2 × Motor Cable |
| 2 × Encoder Motor | 6 × M4*8mm Screw |
| 1 × Chassis | 4 × M2.5*12mm Screw |
| 1 × Mini Wheel | 6 × M4*25mm Screw |
| 2 × Wheel Hub | 6 × M4*14mm Screw |
| 2 × Slick Tyre | 1 × Screwdriver |
|   | 1 × Line-following Track Map |
__________________________________________________________________________________________________________________________________________________________________________
DOWNLOAD ZONE
| | |
| --- | --- |
| mBot2– User manual (ENG) | |
| mBot2 - Operation Guide (ENG) | |
| mBot2 - Getting started activities | |
| mBot2 - Introduction to mBot2 (ENG) | |
| mBot2 - Leaflet (ENG) | |
| mBot2 -  PPT (ENG) | |
| IMPORTANT: Communication on mBot2 Firmware Upgrade 6.3. | |
You might also like