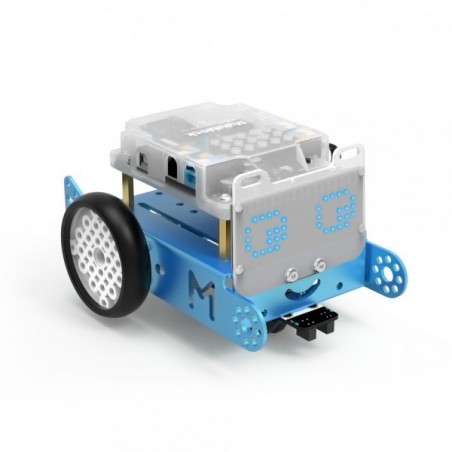  
mBot Bluetooth Explorer Kit Robot
MakeBlock mBot-S Explorer Kit, a Entry-level educational robot for STEAM education. This is an updated version of mBot that include LED matrix display
If you have any questions on this product please feel free to contact us.
*Disclaimer: The images are merely illustrative.
The MakeBlock mBot-S Explorer Kit is an entry-level educational robot for STEAM education and suitable for students from ages 8 and above. mBot-S contains many electronic modules such as a LED matrix, sensors, an IR transmitter, an IR receiver. It has the companion programming software mBlock (for PC/mobile) and supports the Makeblock app for 3D construction.
mBot-S is an updated version of mBot. In addition to the features that mBot provides, mBot-S also comes with an LED matrix display. Children can put the LED display in any position as they please: a front, back, at the top. The LED matrix display brings diversity into mBot-S, allowing children to customize images by programming the RBG lights. Children turn the LED display into a board showing scores, weather forecasts or emotions.
What's included:
1 x MakeBlock mBot-S Explorer Kit:

mbot bluetooth + LED Matrix

1 x 4 AA batterie holder

you can buy an optional Lipo Batterie here, not contained in this kit
Specifications:
Sensors: Light sensor, IR Receiver, Button, Ultrasonic Sensor, Line-following Sensor
Other electronic modules: Buzzer, RGB LED, IR transmitter, two motors, LED matrix
Chip: ATmega328
Power: 3.7V DC Lithium battery (not included) or 4 AA batteries(Xt included)
Wireless: Communication Bluetooth
Weight: 500 grams
PDF File
mBot, the adorable global sensation that helps children get smarter as they play
From the outset mBot, with its big adorable eyes and cute smiley face, has enthralled more than 4.5 million children worldwide. mBot is an educational playmate for children learning to build and program, and an excellent educational aid for teachers in STEAM [1] lessons. It is also a frequent heavyweight contender at large robot competitions, such as MakeX. mBot gets children to engage both their hands and their brain, encouraging them to exercise their interdisciplinary abilities while allowing them to experience the endless fun of creation at the same time.
You might also like