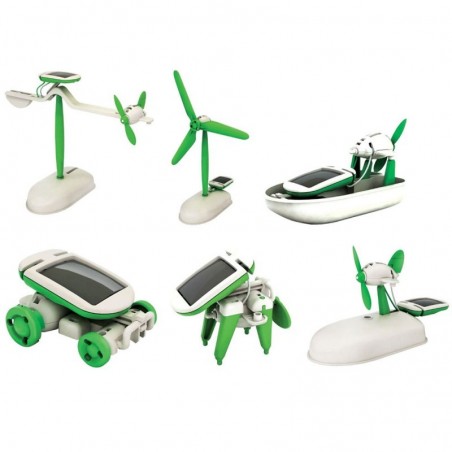  
6 In 1 Educational Solar Kit
DISCONTINUED
• Build 6 different models: windmill, revolving plane, airboat, plane, car, and puppy
• Comes with solar module and gear box
• Great toy and education tool for childre
If you have any questions on this product please feel free to contact us.
*Disclaimer: The images are merely illustrative.
Description
• Build 6 different models: windmill, revolving plane, airboat, plane, car, and puppy
• Comes with solar module and gear box
• Great toy and education tool for children
Introducing the Owi 6 In 1 Educational Solar Kit. An innovative solar science kit that encourages children to exercise their sense of creativity and imagination.  It  can be transformed into 6 different robot models.  The sun's rays power this solar kit and demonstrates alternative energy principles (no batteries required).  It's exciting to watch solar energy make the product come to life, and this hand-on approach to science and building creates a tangible lesson in solar energy for girls and boys alike.
You might also like