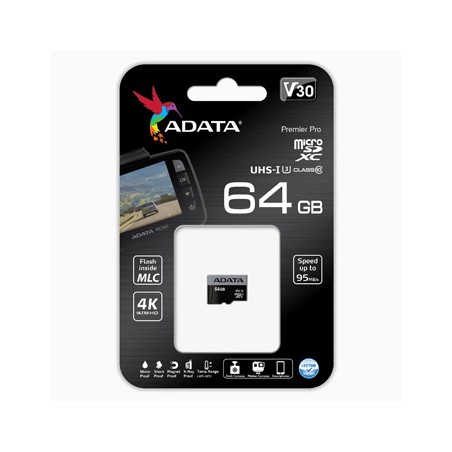  
MICRO SDXC 64GB U3 CLASS 10 V30 ADATA With SD ADAPTER
Premier Pro microSDXC/SDHC UHS-I memory cards are designed for dash recorders and motion cameras, perfect for repeated write/overwrite tasks such as daily in-car recording. Being V30 (Video Speed Class) qualified, they can record at a minimum speed of 30MB per second. To ensure consistent high quality, Premier Pro microSDXC/SDHC UHS-I memory cards are waterproof, shockproof, X-ray proof, and extreme temperature resistant, accompanying you on journeys even in harsh environments.
If you have any questions on this product please feel free to contact us.
*Disclaimer: The images are merely illustrative.
MICRO SDXC UHS-I U3 64GB CLASS 10 ADATA com Adaptador SD. Dimensões 11 x 15 x 1mm e Peso: 0.25g. Suporta FHD 1080p e UHD 4K gravação e reprodução. Qualidade extra, Durabilidade extra, Excelente Produto ADATA. Suporta V30 paragravação de vídeo mais rápida. Velocidade de leitural até 95 MB/s. À prova de água, choque, raio x estática e resistente a interferências magnéticas. Resistencia a alterações de temperatura extremas.
You might also like