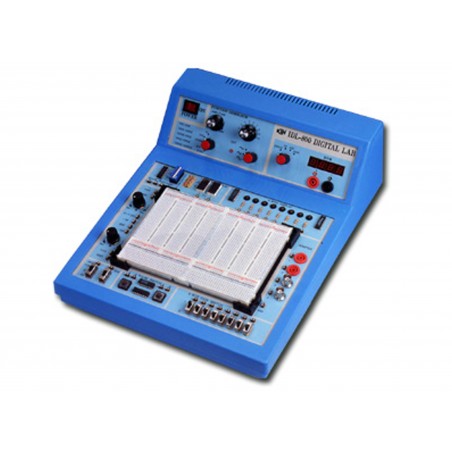  
IDL-800 Digital Trainer Lab
The IDL-800 Digital Lab offers a unique platform on which digital electronics circuits may be constructed with speed and ease. The system combines simple, easy to use, features with a versatile solderless breadboard area.
If you have any questions on this product please feel free to contact us.
*Disclaimer: The images are merely illustrative.
Specifications
DC Power Supply

+5V at 1A
-5V at 100mA
0V to +15V and 0V to -15V variable at upto 300mA
Full short protection is provided as is a mains switch with power on indicator

Function Generator

Five frequency ranges:
1Hz to 10Hz
10Hz to 100Hz
100Hz to 1KHz
1KHz to 10KHz
10KHz to 100KHz
Sine wave output: 0 to 8V peak to peak variable
Triangle wave output: 0 to 6V peak to peak variable
Square wave output: 0 to 8V peak to peak variable


Digital Voltmeter (DVM)

3 1/2 digit LED display
Four voltage ranges:
0V to 199.9V
0V to 19.99V
0V to 1.999V
0V to 199.9mV
Input impedence: 10Mohm for any range

Logic Switches

Eight robust debounced HI/LO slide switches

Function Switches

Two robust slide switches each switch between +5V and -5V

Pulse Switches

Two push-button pulse switches

Logic Indicators

Eight buffered LED logic indicators

Seven-Segment Displays

Two common-cathode seven-segment LED displays

Solderless Breadboard

1896 interconnected tie points, accepting all DIP devices, components with leads and solid wires of AWG 22 (0.3 to 0.8mm)

Accessories

Power lead and user manual

Power Supply

110/120V AC or 220/240V AC (please specify when ordering) 50/60Hz

Physical Characteristics

Dimensions: 360mm (width), 480mm (depth), 200mm (height)
Weight: 4.2kg
You might also like