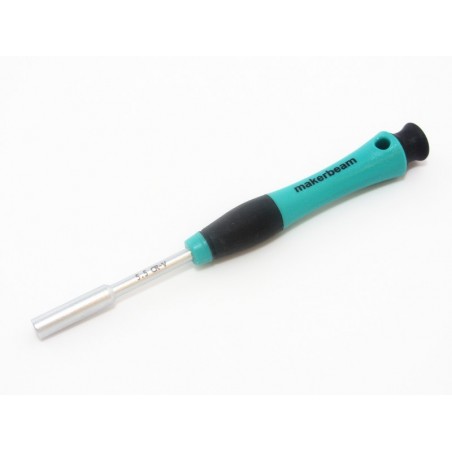  
Chave para porcas Hexagonais M3 Makerbeam
The hex nutdriver (5,5mm) is a standard item in the MakerBeam Starter Kit and the OpenBeam Precut Kit.
  T-slot is a popular technology widely used for industrial automation, robotics and machine enclosures. The compatible standard components simplify complex machine building and give you enormous flexibility. MakerBeam adopted this technology to offer you precision components for endless building possibilities in miniature size.
Professional prototyping
MakerBeam offers precise and strong elements to build machines and robots. The Mini-T technology gives you the freedom to integrate mechanical and electronic components. A wide variety of structural designs for machine frames and factory equipment is possible. Prototyping becomes easier using MakerBeam. You can use and reuse our professional aluminum beams.
Advantages of MakerBeam:
Compatible components and modules.
Shorter design and assembly times.
All elements can be combined.
Threaded connections make for easyassembly and dismantling.
All elements can be reused.
Low weight structure with high loading capacity.
Aluminum profiles provide attractive design.
Black anodised is useful in photography