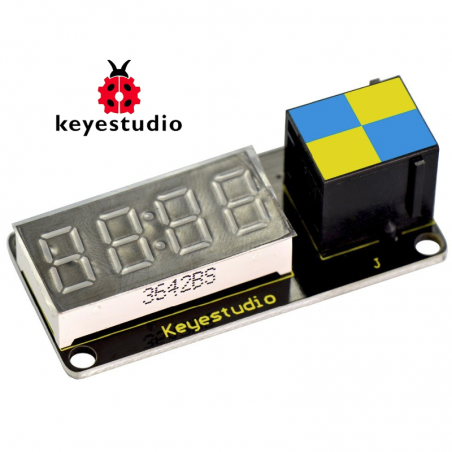  
4-Digit LED Display - RJ11 EASY plug - Keyestudio KS0369
If you have any questions on this product please feel free to contact us.
*Disclaimer: The images are merely illustrative.
Overview
This is a 4-digit 0.36'' Common Anode LED display module, a 12-pin display module with score points.
The driver chip used in the matrices is TM1637, using only two signal cables to make the microcontroller control the 4-digit LED display.
The four pins of LED display are GND、VCC、DIO、CLK. (GND is ground, VCC is for power supply, DIO is data IO pin, CLK is clock signal pin.)
The module pins are extended into Registered jack, so you can easily connect it to EASY Plug control board using a RJ11 cable.
Note: this module should be used together with EASY plug control board.
Documents
You might also like