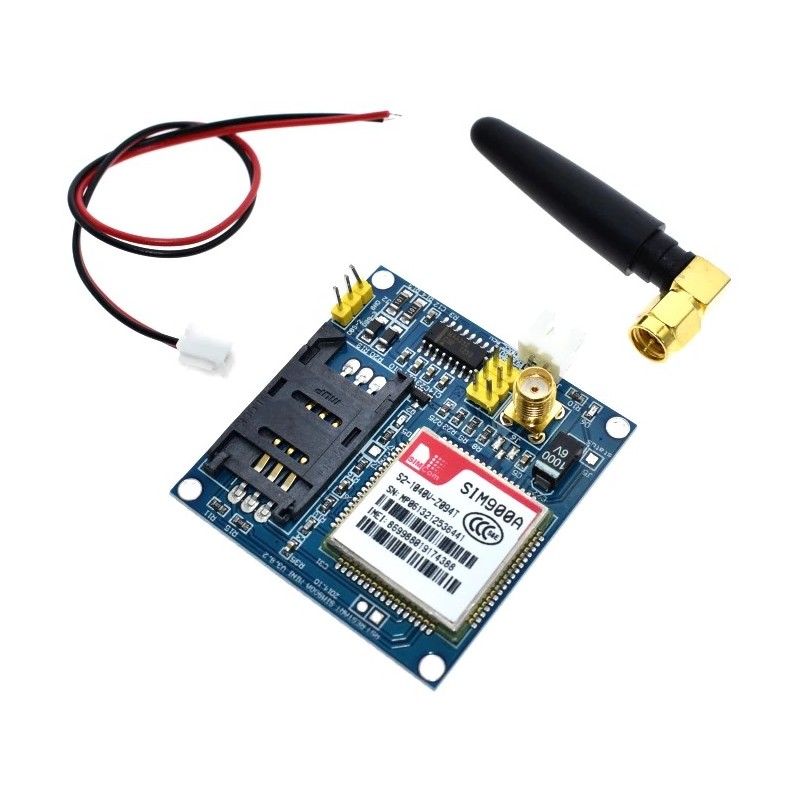  
GSM/GRPS Module SIM900A V4.0 With Antenna
Dual-Band 900/ 1800 MHz
GPRS multi-slot class 10/8
GPRS mobile station class B
Compliant to GSM phase 2/2+
Class 4 (2 W @900 MHz)
Class 1 (1 W @ 1800MHz)
Control via AT commands (GSM 07.07 ,07.05 and SIMCOM enhanced AT Commands)
SIM application toolkit
Supply voltage range : 3.1 ... 4.8V
Low power consumption: 1.5mA(sleep mode)
Operation temperature: -40°C to +85 °C
If you have any questions on this product please feel free to contact us.
*Disclaimer: The images are merely illustrative.
Description:
Serial port circuit (with protection)
Antenna interface circuit (SMA bend female port)
SIM card circuit (flip SIM slot)
SIM900 serial port output terminal
For more infromation working with Arduino, please visit the following GitHub.
SIM900 chip parameters:
4 frequency 850/900/850/900
GPRS multi – slot 10/8 class
GPRS mobile station class B
Meet GSM 2/2 + standard
Class 4 (850/900 W @ 2 MHz)
Class 1 (1800/1900 W @ 1 MHZ)
Size: 24 x 24 x 3 mm
Weight: 3.4 g
By the AT command control (GSM 07.07, 07.05 and SIMCOM enhance the AT command set)
SIM application toolkit
Chip power range: 3.2 – 4.8 V
Low power consumption: 1.0 mA (sleep mode)
Operating temperature range: – 40 °C to + 85 °C
Module parameters:
The power supply voltage: 5 V
Power supply current: > 1 A
Software features:
- 0710 the MUX protocol
- Embedded TCP/UDP protocol
- FTP/HTTP (by July 2010 implementation) Enhanced version of software features Of FOTA (2010 implementation)
- MMS (2010 implementation)
- The Embedded AT (the first three quarter can be achieved)

Voice
- Tricodec
- Half Rate (HR)
- Full rate (FR)
- Enhanced Full Rate (EFR)
- Support for echo suppression algorithm
- AMR
- Half Rate (HR)
- Full rate (FR)

Interface:
- Support SIM card is 3V/1.8V interface
- Analog Audio Interface
- Support RTC
- SPI interface
- Serial Interface
- Antenna pad
- I2C
- GPIO
- PWM
- ADC
Compatibility:
- AT cellular command interface Certification:
- ROHS
- TA
- REACH
Package Include:
1PC  SIM900A 1800/1900 MHz Wireless Extension Module GSM GPRS Board + Antenna Free cable
You might also like